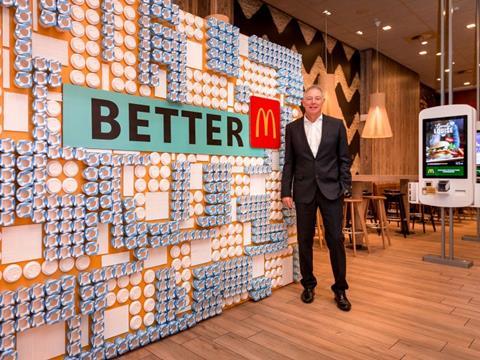 Currently, 78% of packaging used by McDonald's globally is made from fibre. This figure increases for its European markets where fibre comprises approximately 88% of all packaging and plastic only 12%. The steps taken by McDonald's have the goal to further impact on removal of plastics from its packaging system.
More than 1,200 tonnes of plastic per year will be saved through a makeover of McFlurry packaging which eliminates the need for a separate plastic lid. This change will be fully implemented across Europe by the end of 2020
Approximately 1,200 tonnes of plastic per year will be saved through the introduction of a fibre lid for all cold drinks in France. The new fibre lids are made from 100% certified sustainable sources and recyclable materials
Trials are being conducted for plastic-free McFlurry spoons. Wooden and paper alternatives are being tested, in a bid to find the material that meets customer preferences, operational functionality and sustainability
An evolved paper straw will be rolling out across Europe. Following feedback from customers, and as the packaging industry has evolved, the paper straws being rolled out are now stronger while remaining made of fully recyclable materials. Several markets, including Italy and Portugal, only offer straws on request to cut down material use.
Boosting recyclability and reuse
In addition to eliminating plastic and switching to more sustainable materials, McDonald's is also focused on making the packaging it uses easier to recycle and reuse.
On average, over 60% of our restaurants in eight of McDonald's largest European markets are already providing recycling for guest packaging. The UK currently stands at 90%, with Germany close behind at 89% of restaurants. By 2025, McDonald's goal is to recycle guest packaging in 100% of its restaurants globally.
In Europe, McDonald's has achieved its commitment on fibre. By 2020, 100% of primary fibre-based guest packaging will come from recycled or certified sources where no deforestation occurs.
McDonald's Germany is currently piloting a programme called ReCup, where customers can ask for a reusable coffee cup and return it at partnering McDonald's restaurant or other participating restaurants to be cleaned and reused.
From this week, in the UK customers can return used Happy Meal toys to a select number of restaurants so that they can be recycled in a new toy take-back trial
In the Netherlands, restaurants offer recycled paper masks as part of the Happy Meal instead of balloons. Belgium is now introducing paper masks, following great feedback in the Netherlands
Customers in Ukraine can eat the cup they receive their Sundae in – it's made of waffle.
"There has been a lot of innovation in the space of recyclability. We are trying to streamline the raw materials we use to facilitate recycling. It's just a case of getting the infrastructure in place. The more we work with other companies, the better results we will achieve, therefore we have been working in cooperation with Starbucks, for example. It's not about competition, but cooperation," Mr. Kenny concludes.