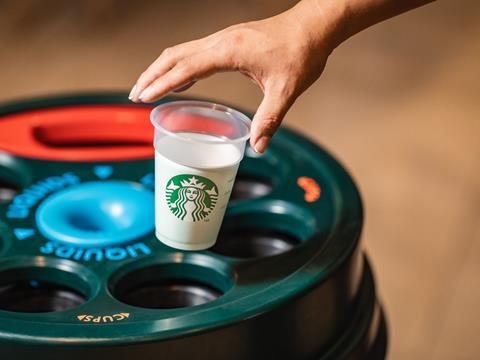 Starbucks' pilot scheme will mean consumers in various cities in Europe can purchase a hot or cold drink in a reusable cup for a small deposit, which is repaid as tender once the cup is returned to the store. The cups will be cleaned and sanitised before returning once again to circulation, with the goal of encouraging more consumers to move away from single-use options.
What role will this trial play in Starbucks' plans to scale a reusable solution to all of its stores in Europe, the Middle East, and Africa over the next few years? A spokesman from the company tells us more about how the trial is progressing.
Last month, you launched the trial of a returnable cup scheme in Europe. Can you tell us more about this project and why Starbucks has chosen the reuse/refill system?
This program demonstrates our commitment to making reusability the only solution long term. We are always looking for more innovative ways to change customer behaviour and encourage uptake of reusables, and this is one of several Starbucks reusable pilots taking place globally that will allow us to test how to move customers away from single use.
It's been specifically designed to remove common barriers to reuse by increasing customer convenience. This forms part of our long-term commitment to reduce waste by 50 percent by 2030 and encourage reusables uptake, which also includes our 25p discount for reusable cups in store and our 5p paper cup charge, to become a resource-positive company.
In order to test and implement reusable solutions at scale, we will use customer feedback and further insights into local operations to ensure we are offering the most effective reusables solution for all, as we work to drive reusables uptake in all our stores in Europe, the Middle East, and Africa by 2025.
Research has shown that convenience and pricing are some of the most important factors for engaging consumers in deposit return schemes. How did you account for this when designing Starbucks' returnable cup programme?
From exploring what's inhibited uptake in earlier, smaller pilots, we've created the most convenient way to return and reuse a cup that allows for minimal disruption to our partner's (employee's) regular work routines, without disrupting any customers' Starbucks Experience.
Customers can make the change by paying a £1 deposit to enjoy their beverage anywhere in our returnable cup, before bringing it back to participating stores where they will be professionally cleaned and sanitised. They can reuse their clean cup again and again before receiving their deposit back.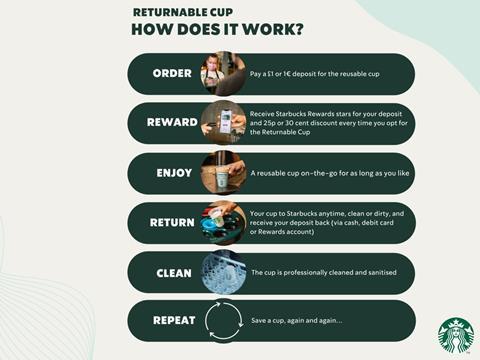 Focusing on sustainable design, can you talk about the patented foaming technology that forms the basis of your reusable cups?
One of the challenges with our cup design was to ensure we could create a cup that was both transparent and opaque, and also worked for both different temperatures and volumes. We created a thin 'opaque foam wall' that provides insulation for hot beverages and reduces condensation in cold beverages.
The Starbucks returnable cup is designed to be safely reused again and again, with the reusable cups made from fully recyclable lightweight polypropylene (PP) plastic.
We understand that Starbucks has already piloted reusable cup programmes in Seattle, Seoul, Singapore, and Tokyo, as well as at Gatwick Airport. What did you learn from these initial trials, and how has this influenced your rollout of the returnable programme in Europe?
Our pilots are in place to test and learn how we can safely and effectively implement our reusables solutions at scale. While we have made good progress in reducing the number of single use paper cups that leave our stores, there is still more work to be done to ensure reusability becomes the only option, long term.
From our learnings at Starbucks' previous UK trial at Gatwick Airport in 2019 with our partner Hubbub, we found that customers are either 'sippers' or 'on-the-go' coffee drinkers. 'Sippers' want to sit and enjoy their beverage and are happy to return their cup whilst remaining in store throughout.
However, 'on-the-go' drinkers are much harder to engage because they require greater convenience and are much less likely to return their cup if it requires going out of their way. We've used these learnings to inform our new returnable cup program, which allows customers to opt for a reusable in the same way they would a single use cup.
We are continuing to roll out our returnable cup program across different cities and communities including busy Londoners in Canary Wharf and an entire European city (Geneva) to further understand the different ways in which customers interact with reusables.
Over the next two months, we will be working with Hubbub to measure customer uptake and listen to their feedback from our store partners (employees) and customers across our other different European city communities and environments. We will use our findings to further build on how we make reusables the only solution long term.
The Canary Warf trial has been in progress for about five weeks now. What has the reaction been like so far?
Following an incredible uptake with customers borrowing 5,400 cups in the first few weeks, the London trial is now being extended beyond initial intended 8 weeks, meaning more customers can get involved in the trial while Starbucks continues to test how we make the scheme as convenient as possible.
This take-up is promising as we continue to expand the program across the region. By breaking down barriers preventing greater reusable uptake and by putting convenience front and centre, we can enable customers to easily transition away from single use.
The aim is to encourage customer engagement for the long-term when the programme is no longer a novelty, as it rolls out a reusables solution in all 4,000+ Starbucks stores in Europe, Middle East and Africa by 2025.
You've also mentioned a trial of the reusable cup scheme in Geneva. What will this look like?
Geneva will be the second city in Europe to pilot Starbucks returnable cup program, following a successful trial in London and others around the world. The two-month trial will test and trial a borrow and return program in all six downtown Starbucks stores.
Consumers can simply put down a CHF 2 deposit when ordering, which will be fully refunded when the cup is returned. Consumers will also receive an 80 Rappen discount every time they save a cup.
Unique to this Geneva pilot, cargo bikes are collecting the cups between reuses, and an electric vehicle will be transporting all cups to the cleaning site to make the reusable process even more environmentally-friendly.
Thinking about the wider food service industry, why do you think it's important for brands like Starbucks to trial different approaches to packaging sustainability?
As part of our long-term commitment to reduce waste and promote reusability, we want to find new innovative ways to use our scale to do good. We will continue test and trial different approaches to overcome more barriers to reuse for our customers.
If we can successfully connect and increase engagement between customers and reusables, we will be able to implement a reusables solution at scale to support the progress of the wider industry.