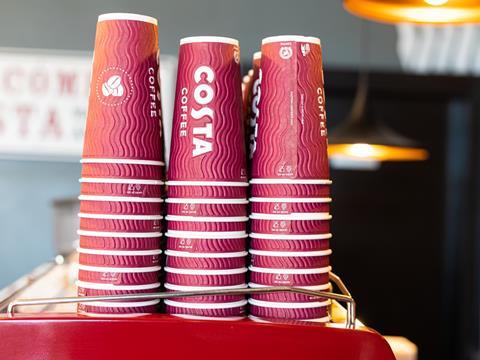 Costa Coffee and McDonald's UK are collaborating with motorway service operator, Roadchef, to co-fund a takeaway cup collection and recycling programme, with the cups set to be turned into stationery and paper packaging at James Cropper's specialist facilities.
This is the latest project from members of the National Cup Recycling Scheme, which aims to accelerate takeaway cup recycling across the UK. The project apparently presents an opportunity to help solve the challenge of collecting and recycling items on-the-go, whilst also tackling roadside litter.
According to the companies, 65 new recycling units, designed by Unisan UK, have been introduced across Roadchef's 30 sites to make it easier to recycle takeaway cups. Consumers can reportedly use the new units to separate their cups, lids, and any leftover drinks before they are sent off for recycling.
The companies explain that the cups are then backhauled via Costa Coffee's stores and will be processed at specialist facilities. These facilities include James Cropper's CupCycling facility, where cups will allegedly be turned into paper and packaging using FibreBlend Upcycled Technology.
Richard Burnett, head of technology and innovation at James Cropper, comments: "We're delighted to be part of Roadchef's commitment to drive circular solutions that reduce waste.
"Using our CupCycling expertise we are able to transform the paper cups that are used in their service stations into beautiful new papers for stationery and packaging."
Mike Jackson, director of supply chain management & head of charity at Roadchef, adds: "Not only will we be recycling coffee cups at all 30 of our sites, but we're also working on plans to have the recycled cups turned into notebooks that will be sold at our motorway service areas.
"It's a closed loop initiative like this where we are really focusing our efforts as they have the potential to make radical steps towards achieving zero waste."
Costa Coffee has set a science-based target to halve carbon emissions per serving of coffee by 2030. The company has recently launched a trial of what it claims are 100% recyclable fibre lids made from renewable plant-based material, adding that it is incentivising reuse through its customer loyalty scheme.
Meanwhile, McDonald's is aiming to become Net Zero across its restaurants and offices by 2030 and across its entire value chain by 2040. The company has previously collaborated with Essity to oversee a recycling project that involves turning beverage, milkshake, and ice cream cups into hygiene paper, with the pilot scheme taking place in Germany.
Helen McFarlane, senior sustainability consultant at McDonald's, says: "We are committed to making it even easier for on-the-go consumers to give their cups a second life, and this is the next step on that journey.
"We hope that, by putting these highly visible bins in some of our most visited locations we can get the message out there that coffee cups can be recycled, and we will be continue to encourage people to return their cups to our restaurants across the country."
Hannah Osman, national cup recycling manager for Valpak, concludes: "We are excited to see this new collaborative project launch, with aims to increase the number of coffee cups being captured and recycled through the National Cup Recycling Scheme.
"To date the National Cup Recycling Scheme has recycled nearly 167 million coffee cups. By working with Road Chef to install these bins, we will not only be able to further increase the recycling rates at these high footfall locations but also use it as an opportunity to increase awareness that coffee cups can be recycled."