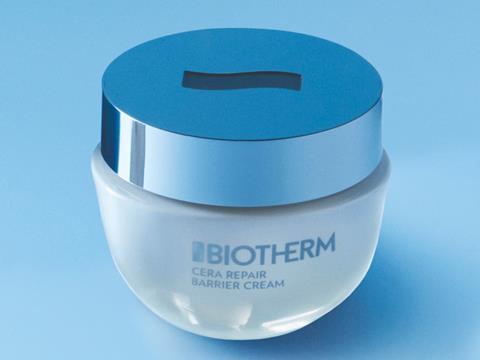 L'Oréal has partnered with Texen on a cap for Biotherm's new skincare collection made from 100% recycled polypropylene (PP) that can be adapted for different container shapes and uses hot stamping to avoid the need for protective varnishes.
According to Biotherm, it is taking a 'Blue Beauty' approach to sustainability that combines sourcing from aquatic and marine environments with "giv[ing] back to them", alongside the aim of designing circular products and utilising recycled materials.
Therefore, Texen and L'Oréal say that it was particularly important to account for the sourcing of raw materials, the optimisation of the industrial process, and conformity with regulations when designing the new cap for Biotherm's skincare collection from recycled PP.
The companies add that the cap can be adapted to different shapes of jar and for a range of different skincare formulas, like Cera Repair and Blue Therapy. The production of the lids reportedly "benefits from the agility of a dedicated automated production line".
The visual aspect of the cap was also important, according to the companies. The pieces are apparently hot-stamped across the whole surface without any overlap, which can be a challenge when using this material. Texen say that the "excellent adherence" of the hot stamping on the rPP allowed it to avoid the application of a protective varnish.
The brand's logo was also created in reserve to leave the raw material visible at the centre of the cap's design.
By 2030, L'Oréal has committed to making all of the plastics it uses in its packaging either recycled or bio-based. The company recently partnered with Veolia, which will supply it with food-grade certified, post-consumer recycled plastic to be used in its packaging. Additionally, a collaboration with LanzaTech and Total led to the cosmetic company's launch of a "world-first" bottle made from recycled carbon emissions.