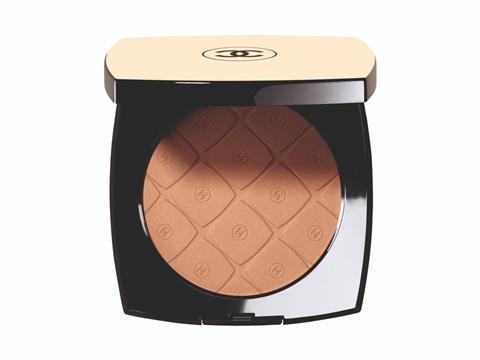 Texen has developed an extra-large cosmetics compact made from food-grade recycled PET and using its BESST technology for optimised aesthetics for Chanel's "Les Beiges" beauty product.
As part of the long-standing collaboration between Texen and Chanel, the solution apparently required aesthetics that are faithful to the object's design codes and conform with the House of Chanel's requirements for eco-design.
Texen explains that there were challenges with regards to the thin-walled compact with a hinge format, which is reportedly difficult to assemble, and the bi-injection integrating recycled content. The company says it spent 18 months investing in research and development, industrial capability, and rebuilding conventional logistics capabilities.
According to Texen, the optimisation work covered the full value chain, including the sourcing of the recycled material, the use of a high-solid varnish, and the group's investment in Beauty Experience Sensation Surface by Texen (BESST) technology. Texen claims the BESST Technology optimises the manufacturing of parts, including ultra-thin parts, to give premium aesthetics and absolute shine.
In addition, the Texen Lab reportedly has dedicated equipment for creating prototypes that resemble industrial models, which it says allows the material to remain fluid to develop a suitable pack. The company states that this technology helps to resolve constraints linked to recycled materials.
In collaboration with Roctool and Chanel, Texen says it was eventually able to adapt its industrial model to produce the 10 cm x 10cm compact made from food-grade rPET for Chanel's "Les Beiges" product.
Texen has previously worked with L'Oréal on a cap made from 100% recycled PP, which uses hot stamping to avoid the need for protective varnishes, for its Biotherm skincare collection.