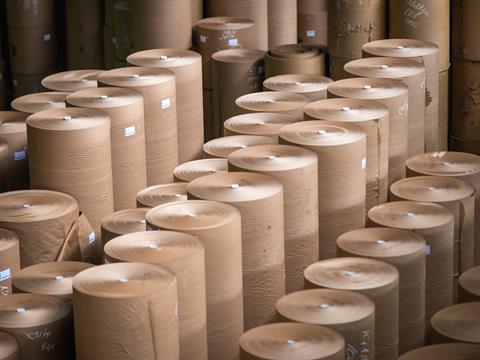 Cepi has released its annual statistics for 2021, which appear to show a strong recovery after the initial outbreak of COVID-19 with an increase in turnover and the growth of segments both positively and negatively impacted by the pandemic in 2020. While the organisation claims that its 2021 figures demonstrate the pulp and paper industry's resilience, challenges continue to emerge due to rising energy prices, supply uncertainties, and Russia's invasion of Ukraine.
Bouncing back from COVID-19
In 2021, Cepi reports that the paper and pulp industry demonstrated an annual turnover of €95 billion – a 15.9% increase from 2020.
Between 2020 and 2021, the consumption of paper and board also increased by 5.8%, which, according to Cepi, outperforms the overall rebound of the euro area GDP. In the same period, production also grew by 6.1%, and the operating rate of paper mills reached 90% compared to 85% in 2020.
Cepi says this demonstrates a strong rebound following the initial outbreak of COVID-19. The organisation previously reported a decline in paper and board production and consumption in 2020 linked with the pandemic, although most mills ran without disruption aside from reduced operating speeds in cases of low demand.
According to Cepi, industry growth is being driven by renewed demand in both domestic markets and globally. Some segments have experienced increased demand, even during the height of global COVID-19 lockdowns: the production of packaging grades has increased by 7.1% compared to 2020, apparently reaching an all-time high in 2021. The production of wrapping grades, which are used for paper bag production, also increased by 11.6%, which Cepi identifies as "the most impressive growth" registered by the industry in the reporting period.
Cepi attributes the increase in production of packaging and wrapping grades to the expansion of e-commerce in recent years, which provided a boost to the paper and board packaging market as consumers turned to online retail during lockdowns. In addition, the EU Single-Use Plastics Directive has led some companies to substitute plastic for paper, as well as the phasing out of plastic bags, according to the organisation.
The organisation suggests that demand for hygiene market segments has peaked after a sharp rise during the initial outbreak of COVID-19. However, Cepi also says that – despite a correction effect – the segment may continue to benefit from elevated hygiene requirements in the long-term, as health and hygiene remain high on the agenda for consumers, governments, and companies.
Some other paper and board segments experienced a drop in demand associated with the COVID-19 pandemic. This includes the accelerated structural decline of graphic grades, with overall output falling by 19% in 2020. However, Cepi reports that, in 2021, even this segment demonstrated some bounce back, with a 5.6% and 2.7% increase in production and consumption respectively compared to the year before.
The global picture
In 2020, Cepi claimed a 20.2% share of total pulp production globally. Therefore, Cepi places third in the global production of pulp, following behind North America (32.3%) and Asia (23.2%). Of Cepi's 18 member countries, Sweden led in terms of pulp production with a 31.4% share in 2021, followed by Finland (28.7%) and Portugal (7.3%).
Cepi was also the third-largest consumer of pulp by region in 2020. Asia leads in this category with a 39.9% share followed by North America with 27%, according to Cepi's data.
Currently, 22% of paper production from Cepi members is exported, which the organisation says exceeds levels achieved in 2020 by 4.1%.
European countries outside of Cepi continue to represent the largest share of Cepi's paper and board exports, but the biggest growth in exports between 2020 and 2021 was to Latin America with a 26% rise. Meanwhile, exports to Asia – which represents 24.2% of total paper and board exports from Cepi to other regions, the second-largest share – declined by 11.3% in the same period.
Total imports, on the other hand, fell by 6.4% in 2021. European countries that are not Cepi members continue to provide over half of Cepi's imports, with a reported 8.8% increase between 2020 and 2021, but imports from all other regions dropped, with the largest decline (24.1%) seen again from Asia.
Recycling rates
According to Cepi, the packaging and paper board segment led in terms of the utilisation of paper for recycling in 2021, with an overall rate of 74.8%. The sanitary and household segment placed second with a 32.7% utilisation rate, while the graphic papers segment followed with a 25.7% utilisation rate.
When it comes to paper product type, corrugated and kraft are the most recycled materials with a total share of 58.9%.
As for regional paper recycling, Cepi says that Germany is ahead, representing a 36.1% share of the 50.7MT of paper utilised for recycling in Europe in 2021. The second-largest share goes to Italy with 11.9%, followed by Spain, France, and the UK.
Cepi claims that the recycling of paper is increasingly performed in Europe, with the region surpassing 50 million tonnes for the first time in 2021. The organisation reports that exports of paper for recycling from Cepi fell by 17.6% between 2020 and 2021. This includes a 75.7% fall in paper exported for recycling from Cepi to Latin America, with declines also demonstrated across exports to almost all other regions.
Cepi appears to have increased its import of paper for recycling from all regions other than Latin America. Imports of paper for recycling increased most from Asia, with a 41.7% share according to Cepi's data. There was also a rise of 19.8% for paper imported for recycling from non-Cepi European countries, also supporting Cepi's claim that paper recycling is increasingly happening within Europe.
The total recycling rate for paper and board in Europe is 71.4%, according to Cepi. This is a 2% drop from 2020, and only a 2.8% rise from 2010 rates.
Resilient figures – but not out of the woods yet
Jori Ringman, director general of Cepi, comments: "Our annual statistics are proof of the resilience of this industry and unique attributes of paper and fibre-based products.
"Amongst the European industries, the pulp and paper sector remains in the leading position for its recycling performance, use of renewable energy, energy efficiency and sustainable sourcing. These are key to our capacity to develop rapidly in new markets."
Cepi claims that positive trends have also been recorded for the first quarter of 2022, with the sector apparently surpassing 2021 Q1 production levels. However, while Cepi says that the 2021 figures demonstrate the paper and pulp industry's resilience, some challenges remain.
Russia's invasion of Ukraine in February 2022 has led to concerns that wood supplies will be destabilised, with the potential for supply pressures and shortages, including for key packaging materials. 5.8% of the wood consumed by Cepi originated from Russia in 2021, with a further 0.9% provided by Belarus. As of March 2022, timber from Russia and Belarus is now considered 'conflict timber', which means it cannot be used in PEFC- or FSC-certified products.
While Cepi sources the majority of its wood from the Cepi Area (85.7%), the ethical and logistical constraints associated with Russian and Belarusian wood may cut into some of its imported supply. On this note, the proportion of wood consumed by Cepi members that originates outside of the Cepi Area is relatively low overall and has also declined slightly from previous levels.
When it comes to exports, the impacts of the war in Ukraine may vary between countries. Cepi has previously stated that Finland, Germany, and Poland represent about half of the EU's paper and board exports to Ukraine, which are likely to be halted by the war. The organisation added that "as pulp and paper trade flows between the EU and Russia are quite large, any restrictions to the bilateral trade of goods could impact EU pulp and paper industry significantly", noting the need to "remain vigilant as the situation could evolve in many ways and restrictions on wood and wood-based products could be included in the sanctions by either EU or Russia".
Another challenge presented by Russia's invasion of Ukraine is skyrocketing energy prices. With energy costs already on the rise, the uncertainty of gas and oil supplies from Russia has led to a further escalation that resulted in Cepi appealing to the European Commission earlier this year. The organisation has called for the paper and pulp sectors to be recognised as essential suppliers for key European value chains, such as food packaging, which would make it eligible for additional support, including state aid and preferential gas deliveries. According to Cepi, intervention is needed to "keep the lights on", with jobs and paper mills at risk.
Moody's Investors Service reports that the paper and forest product industry's EBITDA could decrease by 10-12% over the next 12 months due to increased energy, transport, material and labour costs. The company, like Cepi, says that demand for paper packaging will continue to grow as a result of plastic substitution and e-commerce expansion, with a potential increase in earnings of 6% over the next year for this particular segment. However, this is reportedly not enough to counteract the industry's overall decline.
In response to rising energy prices and tightening profit markets, Moody's is expecting some acceleration in the transition of paper mills to packaging applications. With the input costs expected to remain high, it seems likely that the paper packaging segment will be a draw for companies as they aim to build resilience in the face of escalating industry challenges.