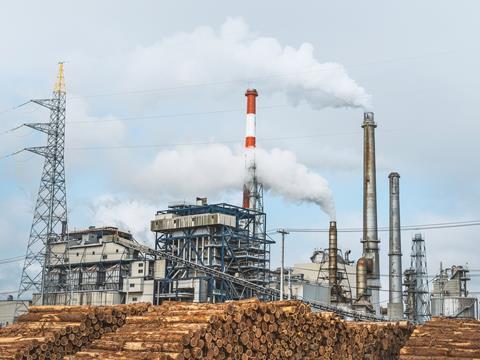 Following the release of the European Commission's Winter Preparedness Package, Cepi calls on national governments to prioritise the paper and pulp industry when securing affordable gas supplies and implementing legislation to boost resilience as Russia's invasion of Ukraine presents ongoing energy supply uncertainties.
Cepi says that the manufacturing of pulp and paper partly depends on gas, meaning that possible disruptions to the industry's gas supply as a result of the war in Ukraine could affect the logistics and availability of paper packaging for applications including food, pharmaceuticals, and essential hygiene across the EU.
Additionally, the organisation explains that recycling operations in the paper industry are almost entirely based on natural gas. Further restrictions in gas supply could potentially disrupt related waste management operations and Europe's leading transport packaging value chain supplies, which rely on a high volume of recycled content, according to Cepi.
The European Commission has today released the Winter Preparedness Package, which is aimed at building resilience in the face of uncertainty and disruption linked to Russia's invasion of Ukraine with a particular focus on gas supplies. Cepi says that the guidance provided by the Commission should now be adopted into governments' national emergency plans by the end of September.
Cepi adds that governments should allow for a temporary fuel switch where possible. However, the organisation also points to some contradictions regarding the flexibility of energy supplies. While the Commission apparently offers flexibility in terms of applying the Industrial Emission Directive, a legislative proposal also released today appears to include provisions to enforce this Directive via mandatory consumption costs.
According to Cepi, this makes it unclear how governments would react in the case that severe gas disruptions were to occur and adds to the difficulty that the industry is having in making projections and preparedness plans.
Cepi claims that national governments have a key role to play in mitigating the pressures on gas markets before mandatory cuts need to be enforced. To lower natural gas consumption, the organisation recommends starting curtailment from low-efficiency installations producing electricity or heat only. Combined heat and power generation, also known as CHP or cogeneration, is apparently dominant in the pulp and paper industry and, the organisation claims, uses natural gas in a highly energy efficient manner.
The organisation says that governments should also consider the entire value chain in their response to the energy crisis, which it says will help to ensure continuity in the manufacturing of essential products. In addition, Cepi calls on national governments to ensure that critical industries like pulp and paper are able to renew gas contracts towards the end of the year at an affordable price.
Jori Ringman, director general of Cepi, comments: "We call on the national governments to swiftly implement measures ensuring that our industry can keep delivering essential goods in times of crisis.
"By prioritising the pulp and paper industry, Member States can not only secure the well-being of EU citizens now, but also strengthen the role of green and more energy efficient industries in the future EU economy. The paper industry is a perfect example that this is not about a choice between protecting citizens and safeguarding industrial production."
This statement from Cepi follows an appeal to the European Commission earlier in the year asking for the pulp and paper industry to be recognised as an essential supplier, which would make it eligible for state aid and preferential gas deliveries. The organisation said at the time that escalating energy prices were making it difficult for some of its members to maintain production at paper mills across Europe.
Moody's Investors Service has previously said that the war in Ukraine is likely to have a negative impact on the paper and forest products industry's EBITDA, projecting a potential decrease of 10-12% over the next 12 months. Some paper mills appear to be switching to packaging grades, with this segment reporting more resilient growth compared to most other pulp and paper applications. Moody's also suggests that the paper packaging industry's ability to pass on cost increases due to the essential nature of its applications could also help to boost its outlook even in the case that gas supplies from Russia are completely halted.