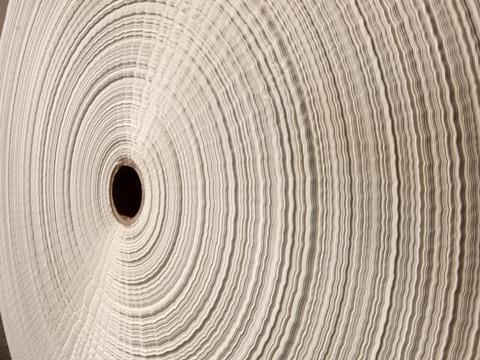 According to Moody's, rising energy prices – which have been exacerbated by Russia's invasion of Ukraine last month – are significantly cutting into paper companies' profitability, with reports that some paper mills are no longer competitive. The company suggests that rising energy prices may accelerate the transition of paper mills to packaging applications, a trend it says is already underway.
Soaring energy prices
Moody's reports that energy prices have increased significantly since the middle of 2021. A colder and longer than average winter in 2020-2021, coupled with catch-up maintenance work following COVID-19 lockdowns, has resulted in demand outstripping supply in some cases. As various industries responded to Europe's unexpected economic rebound, production ramped up – but energy prices remain a significant concern.
Last year, organisations including IVK Europe warned of potential production shutdowns due to unsustainable profit margins, while Polymers Comply Europe (PCE) identified energy surcharges being introduced by polymer suppliers as a potential challenge for plastic convertors. These concerns have followed various industries, including paper and pulp, into 2022, despite reports of "bouncing back" from the challenges of COVID-19.
Russia's invasion of Ukraine in February is likely to escalate the challenge of energy prices. As Moody's notes, natural gas deliveries from Russia could potentially be stopped as a result of sanctions, with the UK and European Union (EU) declaring plans to slowly phase out dependency.
The uncertainty of how the war in Ukraine will unfold is pushing up energy prices. 41% of the EU's natural gas comes from Russia (based on 2019 statistics), according to Eurostat. ICIS claims Russia supplies 50% of Europe's naphtha and 27% of its crude oil. While the EU says it will turn to alternative energy supplies, such as renewables, in a bid to address this dependency, it is also considering filling the shortfall with imports from Iran and other OPEC members.
Moody's says that due to many EU countries relying on fossil fuels to meet the demand for power, the final price of electricity is correlated to the prices of coal or natural gas. However, the company notes some regional variations, with western and southern Europe apparently being hit harder by rising costs compared to Nordic countries due to a greater reliance on Russian natural gas.
Folding paper production
Paper production requires a significant amount of energy, making paper companies particularly vulnerable to increasing energy costs. As reported by Moody's, last week the paper-based packaging company Pro-Gest S.p.A. temporarily suspended operations at approximately six of its mills in Italy, while Norwegian newsprint and magazine producer Norske Skog ASA has taken similar action at its Bruck mill in Austria – both ostensibly due to surging costs for natural gas.
Meanwhile, Lecta Ltd. said on Tuesday that it would be introducing an additional energy surcharge of €150 per tonne from the 1st of April 2022. This points to action being taken by the industry, although Moody's warns that introducing surcharges and otherwise increasing prices could adversely effect demand volumes, which it says is "already in structural decline". On top of this, price increases are associated with a lag time of up to six months before they are reflected in profitability, which could reportedly be too long for some paper companies to avoid liquidation.
Moody's notes that some companies are better placed to cope with the rising cost of energy. For example, backwards-integrated paper companies that produce a large share of their own energy through combined heat and power production processes could potentially withstand price hikes, according to Moody's.
For pulp production, backwards-integrated paper companies apparently include Sappi Limited, Stora Enso, and UPM-Kymmene. However, it is worth noting that workers at UPM's Finnish production mills have been on strike since the 1st of January 2022, with UPM failing to resolve the ongoing dispute regarding its reported attempt to undermine collective bargaining and organised labour. FINAT says that these mills make up more than 25% of all the paper grades used to manufacture materials for self-adhesive labels in Europe, with the group adding that this could destabilise supply chains across a number of adjacent industries.
Cogeneration plants also reduce the amount of energy required in the production process, according to Moody's. Lecta falls into this category, apparently producing 35% of its pulp consumption inhouse – although, as already noted, the company plans to introduce additional energy surcharges. Similarly, Moody's underlines that Pro-Gest, which uses recycled paper as an input material, has nonetheless also been forced to partially shut down production.
In addition, Moody's says that hedging strategies could potentially help companies to mitigate the negative effect of energy prices on profitability. However, forward prices appear to indicate that the market expects the situation to persist for longer, with the company therefore cautioning that hedging energy exposure on a rolling basis could gradually increase energy bills.
A shift in focus – but challenges persist
Moody's predicts that the rise in energy prices, and the impact it is having on the paper industry, will further drive the trend of mills being converted from paper to packaging and speciality grades. Cepi recently reported that paper used in newsprint decreased by 7.4% in 2021, while packaging grades accounted for 58.7% of total paper and board production – a slight increase from 2020.
Norske Skog, which Moody's identified as having shut down some of its production, has apparently already begun converting its Bruck mill from newsprint paper to packaging. On this note, recycled newspaper is a key ingredient for packaging types like moulded pulp, with reduced newspaper output likely to impact feedstock availability. There are some innovative solutions in the works, however; Oregon State University, for example, has developed moulded pulp packaging made mainly with apple pomace.
Even with paper mills shifting to packaging applications, the paper and pulp packaging industry is not without its own challenges. As referenced by Moody's, Russia's invasion of Ukraine could also have a significant impact, with Russia and Ukraine both being major exporters of timber to the EU. Timber from Russia and Belarus is now considered 'conflict timber' and cannot be sold as part of PEFC- or FSC-certified products. According to the European Federation of Wooden Pallet & Packaging Manufacturers (FEFPEB), there will be significant pressure on the supply of wood, and therefore pallets and packaging, in Europe in the coming weeks.
Finally, while speaking to Packaging Europe earlier this month, Cepi said of surging energy prices, in part due to the EU's dependency on Russian natural gas: "To compensate for this, access to clean and affordable energy should be one of the EU's top priorities. The paper industry expects concrete and prompt support measures from the EU and national authorities."