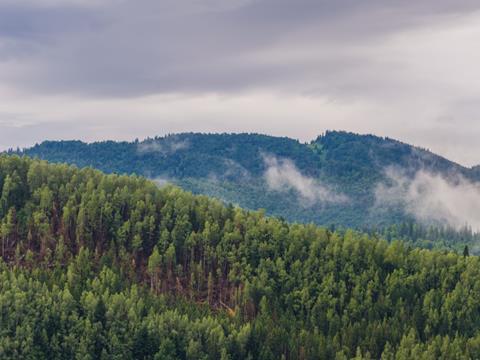 The European Federation of Wooden Pallet & Packaging Manufacturers (FEFPEB) has advised that the war in Ukraine is expected to put significant pressure on the supply of wood, and as a result pallets and packaging, in Europe in the coming weeks.
Tightening wood supply
In its statement, the FEFPEB begins by saying that it expresses "its deep sympathies and support for the people of Ukraine" and notes that, as an organisation, it supports sanctions against Russia for its invasion of Ukraine, as well as against Belarus due to its support of Russia.
As a result of the war in Ukraine, FEFPEB says that it expects the imminent tightening of wood supply, with some countries reportedly sourcing up to 25% of their pallet and packaging timber from Ukraine, Russia, and Belarus.
In 2021, Ukraine exported more than 2.7 million m3 of sawn softwood timber, according to Timber Online, based on data from UKRSTAT and Russian Customs Authorities. FEFPEB says that a significant amount of this softwood is used to manufacture wooden pallets and packaging in European markets including France, Germany, Italy, the Netherlands, and Poland, while Ukraine itself produced and exported an estimated 15 million pallets, mainly to Europe, last year.
Ukraine has experienced a severe economic slowdown and the halting of production since Russia's invasion on the 24th of February 2022, massively impacting exports. FEFPEB warns of "serious direct impacts" on countries such as Hungary, Italy, and Germany, which import the most softwood from Ukraine.
While FEFPEB emphasises that it supports sanctions, it adds that Russia exports approximately 5.4million m3 of softwood timber into the EU, with Estonia, Germany, and Finland being the biggest importers. Meanwhile, Belarus exports approximately 3.1 million m3 of spruce and pine combined. The Board of PEFC International has declared that all timber originating from Russia and Belarus is 'conflict timber' and cannot be used in PEFC-certified products; FSC has also since announced that "wood and forest products from Russia and Belarus cannot be used in FSC products or be sold as FSC certified anywhere in the world as long as the armed violence continues". Therefore, FEFPEB argues that trade sanctions on Russia and Belarus will have a large impact on the European supply of wood, and consequently pallets and packaging.
FEFPEB also notes that alternative timber sources in Scandinavia, Germany, and the Baltic States are "only capable of covering a small proportion of the shortfall". An indirect impact, according to FEFPEB, will also be the unbalancing of the market and increasing competition for more limited wood supplies. This could put upward pressure on prices.
Wider concerns
In addition to the pressure on wood supply, energy supplies have also been "severely disrupted" by Russia's invasion of Ukraine, with FEFPEB citing figures of petrol prices rising by more than 30%. FEFPEB suggests this will have a "significant impact" on the cost of heat treatment and kiln drying of timber required to meet ISPM 15 standards. Additionally, transport costs for the industry could spike – all of this "inevitably" driving up product prices, according to FEFPEB.
As acknowledged by FEFPEB, the pressure on wood, pallet, and packaging supplies because of Russia's invasion of Ukraine is likely to exacerbate existing tensions across the global supply chain. This includes a global shipping crisis, with an uneven distribution and shortage of containers being particularly problematic and partially attributed to unpredictable trading patterns during the initial outbreak of COVID-19.
In addition, there is low availability and surging prices for a range of other raw materials. FEFPEB points to a "severe shortage" of steel for the production of nails, with the European metal industry warning in October 2021 that an "urgent" shortfall in magnesium supply could shut down aluminium, iron, and steel producing and using industries across Europe. Labour shortages are also reportedly a concern.
Fons Ceelaert, secretary general of FEFPEB, comments: "The terrible events unfolding in Ukraine have had an immediate impact on industries of all kinds, disrupting vital trade flows, and reducing availability of many different materials and goods.
"The usual supplies of timber needed for the production and repair of wooden pallets and packaging have had been hit hard, and availability has been significantly reduced.
"Alongside the sizeable ongoing international challenges that already exist in the market, we expect to see a general upward trend in the price of all commodities, including wood.
"In the meantime, our member associations' businesses around Europe are working hard to secure supplies from their partners in order to maintain continuity of pallet and packaging production.
"FEFPEB is in close contact with CEI-Bois and the European Commission, with whom we have shared our moral and economic concerns. We will continue to liaise with industry sources and monitor up-to-date information to enable us to keep our membership and the market informed about the very latest developments in this ongoing situation."
The view from downstream
Packaging Europe spoke to Cepi last week about the impact Russia's invasion of Ukraine is likely to have on the paper and pulp industry. "It is still difficult to assess what the overall impact of the war in Ukraine will be on the European pulp and paper industry, as it will depend on how the conflict develops and how long it lasts," Cepi cautions.
However, in the short-term, Cepi says the war in Ukraine is "creating instability and unpredictability in the trade and business relations between the EU and Ukraine", as well as with Russia and Belarus. Cepi acknowledges that Ukraine will be first and foremost most affected by the war, but goes on to identify, like FEFPEB, Finland, Germany, Poland, and Hungary as some of the countries that will be facing significant impacts, in this case, because they represent around half of the EU's paper and board exports to Ukraine.
Similarly, Cepi says that the paper industry is energy-intensive and that the surge in energy prices, as well as some countries previously relying on Russian natural gas, is concerning for its members. The organisation is also expecting pressure on the supply of raw materials – especially wood, as FEFPEB has signalled – with measures introduced before Russia's invasion of Ukraine having already pressurised supply, such as the Ukrainian wood export ban on all unprocessed wood and Russa's complete ban on exports of unprocessed coniferous roundwood introduced in 2015 and early January 2022 respectively.
After ensuring the safety of its employees, Cepi says that "a second priority [for the paper and pulp industry] has been to assess the immediate and possible future impacts of this crisis on activity and supply chains, and to adjust to a fast-changing situation". The organisation and wider industry "expects concrete and prompt support measures from the EU and national authorities", particularly with regards to the availability of energy.
As for the impact of Russia's invasion of Ukraine on the wider packaging industry, a number of companies have suspended operations in Russia and temporarily shut down production in Ukraine for the safety of their employees. For example, Stora Enso has shut down two wood product sawmills in Russia as part of its cessation of production, sales, and exports from the country.
Last week, the European Packaging Institutes Consortium (EPIC) released a statement condemning Russia's invasion of Ukraine, expressing support for the people of Ukraine and for Russian people speaking out against the war, and calling for joint action across the packaging industry to embargo events in Russia and Belarus and "defend shared values". Packaging Europe whole-heartedly backs EPIC's position.