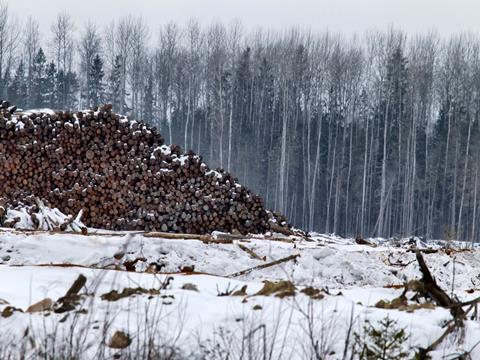 In its latest report, Wood Resources International (WRI) says that the trade of logs and lumber in Europe will "change dramatically" in the coming years, with timber harvests having reportedly peaked in Central Europe. Meanwhile, Russia's invasion of Ukraine is having a significant impact on European imports of all forest products, further destabilising supply.
A pivotal moment for European wood
According to WRI, Central Europe has experienced record high timber harvests over the past few years. This has apparently been driven by extensive damage from a spruce bark beetle outbreak in the region, particularly Czechia and Germany, which resulted in an "unsustainable level" of roundwood harvesting between 2017 and 2021. With roundwood removals up by 15% during this period, lumber production and log exportation also rose.
In response, WRI explains that domestic sawmills have absorbed around 60% of this surge in wood supply, with increased exports of sawlogs and pulplogs representing the remaining amount. The Central European sawmill industry has expanded, according to WRI, as a result of additional wood supply at competitive prices and strong lumber markets both worldwide and in Europe between 2020 and 2021. WRI adds that the production of wood pellets also grew in this period as supplies of sawdust and woodchip increased.
However, WRI notes that the roundwood markets have reached "a turning point" as damage from the bark beetle outbreak peaked in 2019. The amount of damage from bark beetles reportedly dropped by 5% in 2020, followed by a further 24% fall in 2021. WRI says that the volume of damaged wood will revert to "close to long-term average levels" by 2025, decreasing by a rate of 10-20% annually.
WRI therefore predicts that Central Europe's lumber production will decline from current record levels, which could result in a regional shift from net log exporter to net log importer. In the coming years, this will require exporters and consumers of logs to adjust to a reduced supply of softwood, WRI says.
Russia's invasion of Ukraine adds to supply shortages
In 2021, European imports of forest products from Russia and Belarus included almost 14 million m3 of logs and nine million m3 of softwood lumber, according to WRI. After Russia's invasion of Ukraine last month, embargoes on wood exports are expected to be an ongoing aspect of the economic sanctions levied by Europe against Russia. In addition, on a global scale, timber from Russia and Belarus is considered 'conflict timber' and therefore cannot be used in PEFC- or FSC-certified products.
The European Federation of Wooden Pallet & Packaging Manufacturers (FEFPEB) has also predicted significant disruption to Europe's supply of wood as a result of the war in Ukraine, potentially manifesting as soon as the coming weeks. According to the group, Ukraine, Russia, and Belarus export a significant amount of the softwood used in Europe to manufacture pallets and packaging. Russia's invasion of Ukraine is likely to destabilise the supply of wood in Europe, with alternative Nordic and Baltic sources unable to account for the shortfall, the group claims.
Meanwhile, Cepi told Packaging Europe that the impact of Russia's invasion of Ukraine on the European paper industry will depend on how the war unfolds and its duration, although it notes that Russia exports a significant amount of paper and board to the EU. The group suggests that disruption is likely, with instability and unpredictability structuring trade relations in the industry going forward.
Another issue, which precedes but has been exacerbated by the war in Ukraine, is energy prices. As an energy-intensive industry, Moody's says that some paper companies may struggle to remain competitive as deliveries from Russia – from where the EU reportedly supplies 41% of its natural gas, as well as 27% of its crude oil – are set to be sanctioned, adding to energy price surges wrought by climatic conditions in 2021 and challenges associated with COVID-19. As a result, the company predicts that paper mills may speed up the transition to packaging applications to maintain profitability.
According to WRI, "the reduced timber supply in Central Europe and Russia's invasion of Ukraine will impact European industry production, trade flows, and forest products prices for many years to come", implying that there is more uncertainty ahead for related industries like packaging and its key players.
What can the industry do going forward?
WRI notes some solutions for sawmills and fibre industries going forward. For sawmills, the organisation says it will be important to renew focus on conversion yield and small-diameter sawing capabilities, while fibre industries could consider alternative species and wood fibre sources. In addition, it adds that forest owners "would benefit from more intensive forest management".
As for the industry response to Russia's invasion of Ukraine, a number of facilities, such as paper mills, have been shut down to protect the safety of people in Ukraine. Some companies, such as Stora Enso, have halted production and sales in Russia, while others including Tetra Pak and Amcor have begun the process of scaling back or halting new investments alongside keeping what they claim are essential applications, such as food packaging, running. Other packaging companies – notably Mondi and Smurfit Kappa, both having significant paper-based portfolios – appear to have remained operational in Russia. This points to downstream disruption for industries that utilise wood supply, which could be further aggravated by the changes to yields predicted by WRI in the coming years.
In conversation with Packaging Europe, Veronika Khalaydzhi, PhD, president of the Club Packagers of Ukraine, and Valery Krivoshey, PhD, editor-in-chief of the packaging magazine Upakovka, said Ukraine does not have enough raw materials, such as cellulose and waste paper, to fully support packaging companies that have continued operations. In addition, a global effort will be needed to help the Ukrainian packaging industry re-establish itself after the war, which will likely include stabilising the country's domestic supply of raw materials.
Alexander Sobolenko, co-founder of the Ukrainian company Re-Leaf, added that the best way for the packaging industry to support Ukraine now was to withdraw operations in Russia and to buy 'Made in Ukraine' products. In collaboration with the Packers Club of Ukraine, Packaging Europe has set up a dedicated page to facilitate connections between Ukrainian companies and the European packaging value chain.