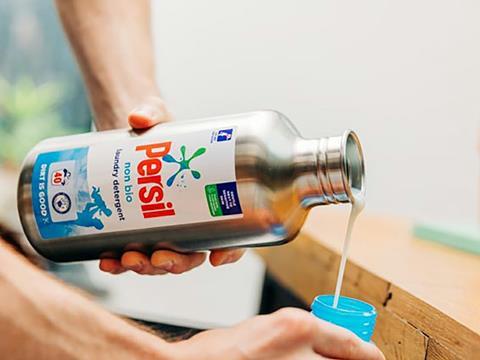 Unilever is trialling reuse models globally as a step towards halving the use of single-use plastics by 2025. Products from brands such as Rexona, Persil and Alberto Balsam are being offered to consumers in reusable packaging across various supermarkets, whereas detergents and cleaners from OMO and Cif are now available in concentrated solutions that aim to cut-down unnecessary waste.
"We're working hard to bring about a refill-reuse revolution, finding ways for shoppers to buy one container and refill it over and over again," said Pablo Costa, VP Packaging at Unilever. "This means rethinking the ways consumers shop and use our products, whilst ensuring that our new, innovative solutions always guarantee a positive consumer experience."
Last year, Unilever launched a refill trial in Asda's sustainability store in Middleton, Leeds, providing products from brands such as Persil and Radox in reusable stainless-steel bottles. In the shop, there were also self-service stations for teabags and loose-leaf tea, and Cif eco-refills were sold, reportedly enabling consumers to reuse their spray bottles by adding a concentrated product and water.
According to Costa, the Asda trial was the company's largest reuse trial in Europe. "Uptake of the trial exceeded expectations with weekly purchases of Persil from the refill zone reaching a third higher than the equivalent single use pack," he said, "demonstrating positive intent and consumer behaviour change in-store."
Following the successful trial at Asda's Middleton store, Unilever has expanded the trial to more Asda shops as well as Tesco and Coop supermarkets. "Across our refill trials in the UK we are testing 'return on the go' refill models, where shoppers can pick up a pre-filled reusable bottle from the shelf and return it in-store once used and 'refill on the go', where customers can purchase and refill re-useable stainless-steel bottles using a standalone refill station," Costa explained. He went on to add:
"We are collecting insights on different store-formats and in-store locations. For example, we are testing stand-alone refill zones, end of aisle refill areas as well as refillable bottles being shelved in the relevant aisle alongside their single-use counterpart.
"We are also looking at how we can stay connected with shoppers that buy refillable products, sharing the environmental saving of their refill and encouraging them to return to store to refill. Through on-pack QR codes (which remain in place through the washing process) we can track the lifecycle of the bottle and number of times it has been used, which we hope will act as a motivator to encourage shoppers to continue to refill and reuse."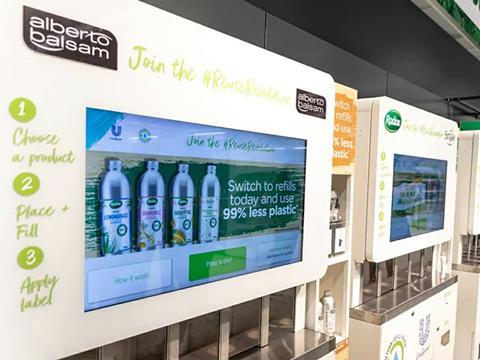 Earlier this year, Unilever also collaborated with UK supermarket Tesco on the launch of the Loop reuse trials. Products from Unilever brands Persil, Simple, Radox and Alberto Balsam were made available in stainless steel containers that consumers could reuse to cut down on waste. "Trials like these will give us invaluable insights into the potential scale of future shopper habits and of future packaging technology," Costa said, adding that the company is using the learnings from the trials to improve its approach for the future.
These UK trials sit alongside Unilever's global efforts to test the potential of reusables in reducing unnecessary waste. One example is the OMO Concentrate- a six-time concentrated solution made to be poured into a 3-litre OMO bottle and diluted with water. According to Costa, after seeing "huge success" in Brazil, the product was brought to other South American countries as well as markets in the Middle East and Europe. The pack for the concentrate is reportedly made up of 50% Post-Consumer Recycled plastic and has 72% less plastic than the standard bottle.
Apps are also effective in providing data that enables the company to adjust what they are offering, Costa explained. An app developed by a social enterprise Algramo allows consumers in Chile to order refills of OMO and Quix cleaning and laundry products and have them delivered by electric tricycles. "We have learnt that technology is a key enabler for some reuse models," he said. "We are now actively working to scale up this partnership and rollout in other markets."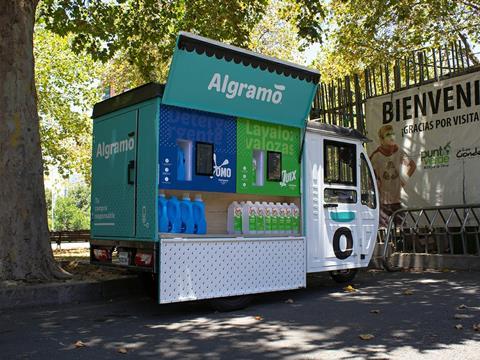 According to Costa, there is not a single reuse model that works with all products and in every situation. "Different consumers have different needs and wants, which depend on a host of factors – where they live, how they shop and what they buy," he said. "Likewise, different product categories work better on-the-go than at home, and vice versa." He added that "Success depends on tailoring solutions accordingly, removing barriers to entry, and keeping systems as simple as possible."
Development in this area is being driven by dedicated internal teams at Unilever, but Costa emphasizes that collaboration is essential in enabling the company to make an impact through reusables. "We need buy-in from retailers, manufacturers, delivery services, civil society organisations and, of course, consumers," he said. "There's also a critical role for governments here, especially in helping promote innovation and encouraging investment."