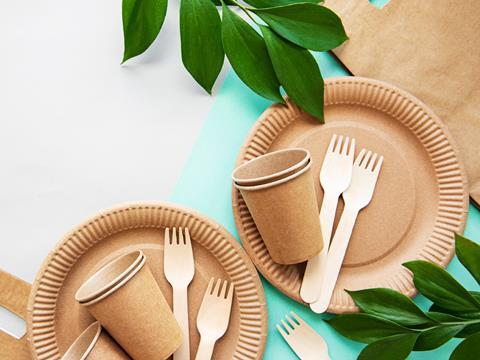 The European Paper Packaging Alliance (EPPA), a non-profit association that represents food service packaging companies in Europe, commissioned the independent consultancy Ramboll to conduct a life cycle analysis (LCA) comparing reusable and single-use tableware. The group says the results challenge the perception that reusable tableware has a lower environmental impact and claims that single-use paper systems perform better than reusable alternatives.
Ramboll's LCA study draws on its earlier report and uses data from as recently as September 2021, assessing 24 types of food and beverage containers utilised in Quick Service Restaurants. This includes cold and hot cups, salad bowls, ice-cream cups, fry bags, plates and trays, and cutlery sets.
During the LCA, Ramboll assessed single-use and reusable packaging across 9 categories based on an assumed recycling rate of 30%. These categories include climate change (based on CO2 emissions), fresh water, metal depletion, fine particulates, fossil resources, and terrestrial acidification – in all of which multiple-use PP plastic systems apparently demonstrated reduced performance when compared to single-use paper and cardboard options, according to the report. The group adds that similar results were found for traditional reusable alternatives including ceramics, glass, and metal.
The report particularly emphasises the industrial washing systems required for reusable packaging, which use energy, water, and detergents. Because of these systems, it argues, multiple-use tableware can use up to 3.4 times more fresh water and fossil resources, the two categories where it appears to score most poorly.
According to the study, multiple-use systems only perform better in the ionizing radiation and freshwater eutrophication categories, where the outputs linked to each are 1.6 and 4.8 times fewer respectively. There is also what the group notes as a "minimal" advantage for ozone depletion in multiple-use applications.
Packaging and labelling company Huhtamäki – a member of the EPPA – has expressed its support of the report. Both the EPPA and Huhtamäki refer to the EU's Green Agenda and the UN's Sustainable Development Goals – claiming that the results of the report suggest that the sustainability targets promoted by these initiatives may, in fact, be counter-intuitive to a truly circular economy. For example, again reinforcing the role of industrial washing, the group claims that the high demand for freshwater in reusable systems may contravene SDGs related to equitable access to resources.
On its website, the EPPA claims that fibre-based packaging is "integral" to the European food economy, providing what it views as the only fully recyclable and recycled packaging when compared to plastic alternatives. This new report from the EPPA certainly provides data that would aid the group in lobbying policymakers in Europe to alter circularity efforts in favour of paper-based solutions.
It is worth noting that some of the EPPA's members include Holmen Iggesund, a company specialising in paperboard products; Mayr-Melnhof Cartonboard International GmbH, a cartonboard packaging company; and Paper Machinery Corporation, which provides the manufacturing equipment involved in producing paperboard and plastic containers for food. In addition, some of Huhtamäki's key packaging solutions include paper cups for the 'beverage-to-go' segment and egg, fruit and wine trays made from recovered fibre.
A LCA meta-analysis published by the United Nations Environment Programme in February 2021 appears to provide contradictory results to the EPPA. While the UN-hosted report agreed that the largest environmental impact of reusable tableware options was washing, it ultimately concluded that reusable options performed better than single-use options across all other categories. It proposed that the impact of the manufacturing stage was high for single-use plastics and that contamination from food waste can impact its end-of-life performance.
However, the UN report emphasised that its data was not intended to select the "best" systems for tableware, and that materials, geographical context, and consumer behaviour all needed to be considered on a case-to-case basis.
In a 2017 study conducted by the Clean Water Fund, various LCAs also suggested that reusable cups that could be washed had a lower impact on greenhouse gas emissions than single-use systems, which it claims were often placed in landfill despite being marketed as recyclable. The report did not have detailed data available for plates, bowls and flatware, but did imply similar findings supporting the environmental benefits of reusable options for these containers.
While this report only mentions some paper-based systems, mainly in the context of criticising the recyclability claims of paper-based tableware with plastic linings, it is interesting that a study supported by the Clean Water Fund – a campaign dedicated to safe water access and preventing water pollution – privileges reusable tableware options. This could undermine the EPPA's suggestion that the amount of water required to support multiple-use systems represents too high of an environmental cost to justify their use.
The issue of single-use and multiple-use options remains controversial, especially when debates around plastic and recyclability are also involved. The lack of clear consensus between LCAs by different groups – and the inevitable vested interest of companies in the results – suggests that further research is needed to develop a holistic strategy for sustainable tableware going forward.