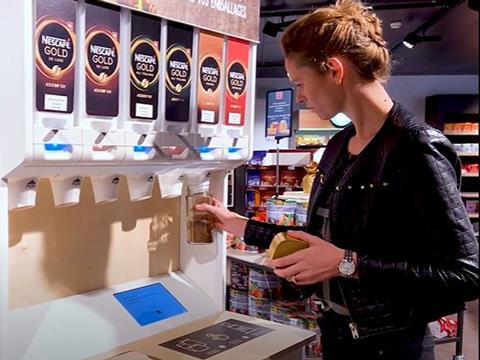 Nestlé is piloting reusable and refillable dispensers for petcare and soluble coffee with the aim of giving consumers a flexible shopping experience that is free of single-use packaging.
Consumers can bring reusable containers to purchase different types of Purina cat food and Nescafé soluble coffee. They can also digitally access product information that is typically found on packaging, such as ingredients, nutritional value, and shelf life.
Working in collaboration with the start-up MIWA, Nestlé recently piloted the reusable and refillable dispensers in three Nestlé shops located in Rorschach, Orbe, and La Tour-de-Peilz, Switzerland.
The company reports that its dispensers were well received by consumers during a four-month trial period. To further assess their effectiveness in preventing packaging waste along the supply chain, the dispensers are set to be rolled out across more locations in the next few months.
Hélène Lanctuit, R&D Packaging Lead at Nestlé, says: "Packaging plays a key role in maintaining food safety during a product's shelf life. This means that whenever new packaging systems are explored, we need to ensure that our products can be delivered to consumers in a safe and hygienic manner. These dispensers are novel because they incorporate smart technology which allows us to ensure product safety, and also guarantee the freshness and traceability of our products."
Nestlé has identified alternative delivery systems such as bulk, reuse, and refill options as a key focus area across several product categories. The company has already announced a pilot test for Refill Plus, a water dispenser that allows consumers to personalize their water with a number of different flavour combinations. In partnership with Terracycle, Nestlé is also rolling out Loop, a subscription home delivery service in the US which it also plans to introduce in France. Additionally, the company points out that mini dispensers for Nescafé and Milo are available for the out-of-home segment in many countries around the world.
These systems are part of a broader set of actions to reduce single-use packaging. Building on its commitment to make 100% of its packaging recyclable or reusable by 2025, Nestlé recently announced plans to reduce the use of virgin plastics by one third during the same time period.