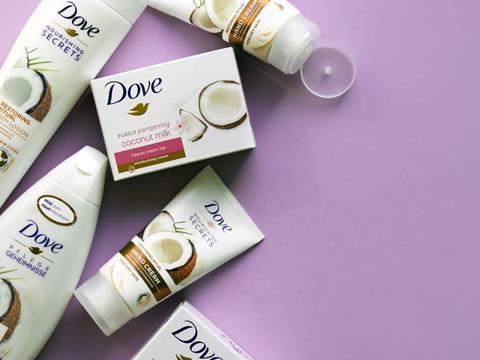 With Unilever pledging to halve its use of virgin plastic by 2025, the company sets out to answer the frequently asked question: why isn't it acting more quickly? The company points to the difficulty of sourcing post-consumer recycled (PCR) content from both a pricing and availability perspective, as well as the underdevelopment of collection and recycling infrastructure, as some of the challenges preventing it from reaching its sustainability goals now.
Pledges vs. prices
In 2019, Unilever pledged to halve its use of virgin plastic by 2025 – claiming, at the time, to be the first major consumer goods company to commit to an absolute plastic reduction across its portfolio. Based on figures from 2021, the company has reduced its total virgin plastic packaging footprint by around 16% since 2018.
The company is also aiming to use 25% recycled content in its packaging by 2025, supporting its bid to reduce the use of virgin plastics. In 2020, 11% of Unilever's plastic packaging reportedly consisted of PCR content, which the company says puts it on track to achieve its 2025 target.
However, Unilever acknowledges that questions have been asked as to why its transition away from virgin plastic isn't happening more quickly. While Unilever identifies opportunities to accelerate its work towards the goals, the company also highlights in a recent report the challenges it is likely to face over the next few years.
Unilever says it is aiming to go beyond its goal of 25% PCR content, which will require a secure supply of high-quality PCR materials. The company adds that this relies on local collection and sorting facilities, and that the requirements for high-quality recyclates – such as separating out different plastic types, like HDPE from PET – are often intensive and costly processes. As such, Unilever points to the challenge of high-quality PCR material being difficult to source and being sold at a premium in some regions.
This is an issue faced across the industries and value chains. Earlier this year, ICIS reported that the price of recycled PET (rPET) had reached a "record high" for the European market, and there are persistent shortages of mono-material bales of HDPE, PP, and PET due to disruptions associated with the COVID-19 pandemic, rising contamination levels, and insufficient collection and sorting capacity.
This has led to growing concerns over where companies like Unilever will source the recycled materials necessary to meet the targets they have set for the next decade and beyond. Gartner predicts that approximately 90% of public sustainability claims will not be met by 2025, as reliance on fossil-based plastics and single-use packaging remains high.
The challenge of rising costs for all materials, including PCR content, appears to be here to stay for the foreseeable future. Unilever itself has acknowledged this. In a report on Unilever's 2021 figures, Alan Jope, CEO, commented: "The major challenge of 2021 has been the dramatic rise of input costs." In 2022, the company says that it is expecting another significant increase in input costs, with a high level of uncertainty surrounding the outlook for commodity, freight, and packaging costs.
However, the company is also expecting its underlying sales growth to be in the range of 4.5% to 6.5% this year, building on resilient 2021 figures. Jope stated: "The acceleration of Unilever's operating performance continues. We delivered our fastest underlying sales growth for nine years [in 2021] – 4.5% for the full year, with 1.6% from volume."
Unilever will likely have to accept and pay premium prices for high-quality PCR material if it wants to meet its 2025 pledge. The fact that consumers have indicated that they would be willing to pay more for sustainable packaging, or switch brands because of it, could perhaps act as an incentive. The cost of PCR material, while certainly a barrier, is arguably not insurmountable for a leading global company like Unilever. Companies may otherwise risk appearing to sacrifice sustainability for profit.
High demand, limited availability
The availability of PCR content is an issue that could be considered further outside of Unilever's control. The company notes that there needs to be greater investment in waste collection and recycling technologies, echoing calls from organisations like the Ellen MacArthur Foundation and CEFLEX, which are especially focused on difficult to recycle plastics like flexible packaging.
"We hope that our commitment, alongside pledges from other organisations, to use recycled content will stimulate the market to produce more, and act as a catalyst to increase the collection and reprocessing of materials," Unilever writes.
One way to achieve this could be through chemical recycling. Unilever is a member of The Consumer Goods Forum's Plastic Waste Coalition of Action, which recently released a life cycle analysis (LCA) pointing to the positive environmental potential of chemical recycling as an alternative to waste-to-energy for hard-to-recycle plastics, and set out principles for the establishment of a safe and credible chemical recycling system.
Unilever is also investing $15 million in the Closed Loop Partners' Leadership Fund, with the aim of recycling an estimated 60,000 tonnes of plastic packaging waste annually by 2025. This amount is reportedly equivalent to more than half of Unilever's plastic footprint in North America.
In addition, Unilever says that its investment in the private equity fund – which acquires and helps to grow companies across the value chain that are working to increase recycling and keep valuable materials in a closed loop – will help it to secure PCR plastic for its brands. This will apparently include Dove, Hellmann's, and Seventh Generation, which the company says already use 100% PCR bottles. Other Unilever brands already featuring PCR content include Persil, which in 2020 moved to recyclable bottles with 50% PCR plastic.
Unilever is not the only company taking action to secure the supply of PCR plastic materials. With tightening availability and rising prices, companies including Indorama Ventures and Trinseo have made strategic investments with the express purpose of securing the supply of plastic recyclates.
Making progress
Over the next year, Unilever will be changing its organisational structure in a bid to "make it simpler and more category-focused". The company will therefore be organised into five category-focused Business Groups, which will each be responsible for its own strategy, growth, and profit delivery across all geographies.
When discussing how companies can navigate material shortages, Gartner explains that segmenting packaging types offers a better understanding of the opportunities and risks presented by each, and helps to encourage more targeted interventions when making portfolio changes to meet sustainability targets. It is possible that Unilever's restructuring could provide a boost for its sustainability efforts, including its plastic packaging pledges, by renewing and funnelling its focus.
Even targeted material substitutions – which could aid the transition away from virgin plastic alongside the drive for PCR material – are not easy, however. Unilever has recently switched its Carte D'Or ice cream brand from plastic to PEFC-certified paper tubs and lids, which can be recycled in normal household paper recycling streams. The tubs contain a plastic inner layer that is currently needed to keep the ice cream fresh and to ensure the durability of the pack. Additionally, the tub's plastic seal is non-recyclable and must be removed before the tub and lid are placed in recycling streams, although Unilever says it is working on a fully recyclable solution going forward.
This demonstrates some of the challenges of moving away from plastic entirely, especially for food contact applications where plastic offers essential product protection that cannot be easily replicated by other materials. Unilever's membership of the Pulpex consortium, which has developed a paper-based bottle with a spray-on internal coating, is ostensibly working on a solution to this challenge. Unilever will launch a paper-based bottle for its laundry brand OMO in the coming months, starting in Brazil before expanding the rollout to Europe.
Unilever has also supported a legally-binding international treaty on plastic pollution, which the UN Environment Assembly has since agreed to draft for the end of 2024 in a landmark move. Speaking exclusively to Packaging Europe about the treaty, Richard Slater, chief research & development officer at Unilever, said that the company is looking to the treaty to help with two major challenges: reduction and recycling.
"A Treaty that reduces virgin plastic production […] will force companies to pioneer new ways to use less plastic, and coordinate clear national targets and approaches to investment and infrastructure development," Slater explained.
On the expansion of recycling, Slater added: "A UN Treaty can help introduce new laws to stimulate investment in infrastructure, bring in mandatory recycling targets, and set up incentives for business to deliver the systems changes needed to end plastic pollution."
To reiterate, Unilever says it is on track to meet the target for virgin plastic reduction that it has set for 2025 despite these challenges. Overall, the company highlights these challenges as an explanation for why immediate changes to its plastic usage aren't possible – or why, initially, it may struggle to exceed the target once it is met. Change takes time, even if the plastic pollution crisis is urgent, and so it will likely be a matter of waiting to see how Unilever's pledge plays out.