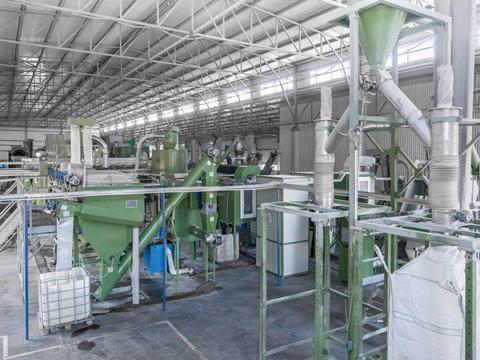 Trinseo announced on Tuesday that it has entered a definitive agreement to acquire Heathland BV, a plastics recycling and converting company based in the Netherlands, as part of Trinseo's plan to ensure a "reliable source" of recycled feedstock for its expanding portfolio of sustainable materials.
Heathland collects post-consumer and post-industrial plastic waste, with a particular focus on converting polymethyl methacrylate (PMMA), polycarbonate (PC), acrylonitrile butadiene styrene (ABS), and polystyrene, alongside other thermoplastic waste, from both sources. Using chemical and mechanical recycling processes, the company aims to convert PCR and PIR waste into high-quality recycled raw materials, which can be made to customer specifications or as a commodity in line with industry standards.
Simon van der Heijden, co-founder and managing director of Heathland, says: "As a company dedicated to value creation through recycling, we share the same values as Trinseo and our business and product portfolios are complementary.
"There is a common goal to recycle in ways that bring most value out of waste feedstock, avoiding downcycling, and to produce circular raw materials of the highest grade, thereby facilitating the use of recycled raw material as a seamless alternative to virgin plastics."
According to Trinseo, the acquisition is part of its ongoing 2030 Sustainability Goals, which includes the target for 40% of its products to be 'sustainably advantaged', defined by the company as "products that have recycled, renewable or degradable content contributing to a circular economy model", by 2023.
Notably, a report released earlier this week partially attributed the research finding that 90% of sustainable packaging commitments might not be met by 2025 to a limited global supply of recycled content and underdeveloped recycling processes. In addition, the supply chain crisis has contributed to significant increases in the cost of raw materials for the plastics value chain, as well as a shortage of raw materials that EuPC has previously warned could mean convertors will struggle to keep up with demand despite a recent re-increase in production.
These appear to be challenges Trinseo is seeking to address through the acquisition of Heathland, which will reportedly secure its supply of recycled feedstock and boost the development of recycling technologies. Trinseo adds that the acquisition will enable it to continue meeting the demand from its customers for sustainable materials solutions.
Francesca Reverberi, senior vice president and chief sustainability officer at Trinseo, esplains: "In order to be successful as a sustainable solutions provider, it is essential that we have access to comprehensive recycling technologies and can secure plastic wastes as feedstock.
"This agreement is an extension of our commitment to investing in the movement toward a circular economy."
Trinseo notes that its aims for the acquisition are not "guarantees or assurances of future performance", and that risks relating to the integration of Heathland, the wider economy, and further growth opportunities are difficult to predict.
Earlier this year, Trinseo joined forces with BASF to jointly develop the production of styrene based on circular feedstock. This will involve BASF supply Trinsseo with synthetical chemical styrene, which can be used in Solution-Styrene Butadiene Rubber (S-SBR) and polystyrene (PS) products.
Other companies hoping to secure recycled feedstock during challenging global supply and demand conditions include L'Oréal, which recently partnered with Veolia to source recycled plastic for its cosmetic packaging, and The Coca-Cola Company's collaboration with UPM and Changchun Meihe to provide the bio-based materials used to produce its 100% plant-based bottle.