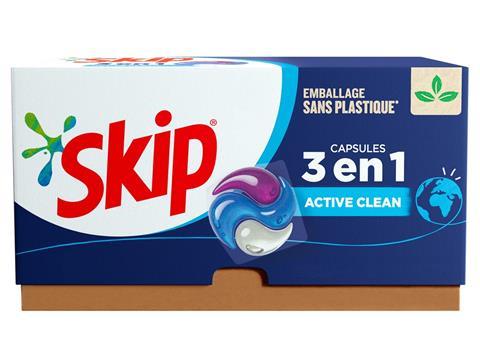 Unilever has launched what it claims to be its most sustainable laundry capsule to date, alleged to reduce greenhouse gases by 16% and relieve the waste stream of 6000 tonnes of plastic every year.
The capsule is said to work best on short cycles and in temperatures of 20 degrees or below, which reportedly shrinks the product's carbon footprint down by 16%, saves customers up to 60% energy with each use – and, according to a study conducted by the University of Leeds and Procter & Gamble, reduces the release of microfibres, as well as keeping clothes in good condition for longer.
It is alleged that the capsule membrane is fully biodegradable – supposedly the fastest-dissolving on the market – and the formula inside is designed to contain biodegradable active ingredients that are 65% derived from plant sources.
Shoppers can purchase the capsules in plastic-free cardboard packaging, designed in collaboration with Graphic Packaging International to be easily accessible, child-proof and recyclable. Unilever maintains that 50% of the packaging is itself recycled, the rest sourced from forests certified by the Forest Stewardship Council (FSC).
Dr Keith Rutherford, head of global innovation at Unilever Home Care R&D, states that "our ambition is to make sustainable cleaning the compelling choice for every consumer by bringing real innovation to established mass market products.
"The new proprietary formulation and child-proof cardboard packaging is the work of so many people. This is our best and most sustainable laundry capsule yet – it is truly industry leading."
Ralf Mack, director new business development, EU Consumer Products at Graphic Packaging International adds: "[GPI and Unilever's] combined expertise in carton design, product protection capabilities and understanding of consumer behaviour have enabled us to create this superior, plastic-free and child-proof solution, enabling consumers and businesses alike to reduce their use of single-use plastic."
This product can be found on the shelves under the laundry brand Dirt Is Good, which includes the detergents Persil, Skip, OMO, and Excel. While it will initially launch in France, it will roll out to other markets in the near future.
With the sale of their new capsule, Unilever aims to reduce Scope 3 greenhouse gas emissions in all aspects of the product's life, including in the customer's washing machine. It falls under Unilever's Clean Future campaign which, amongst other goals, seeks to reduce its use of virgin plastic packaging by 50%, and ensure that all its packaging is reusable, recyclable or compostable by 2025.
Earlier this month, Unilever joined L'Oréal, Zara and other major brands in a collaboration with LanzaTech to convert captured carbon emissions into ethanol and MEG; the results were used in the production of packaging, shoes and textiles. It also achieved the rank of 'Master' in Gartner, Inc.'s Global Supply Chain Top 25, which rewards continual excellence within the supply chain.
Meanwhile, Smurfit Kappa released a similar, paper-based and child-proof detergent box in April this year.