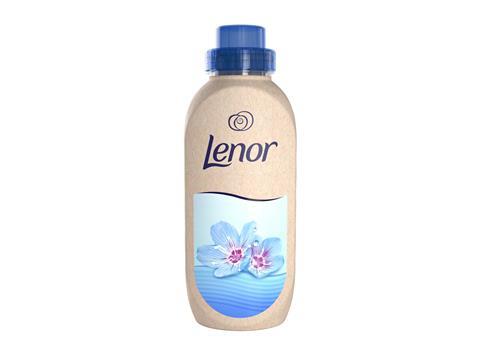 Procter & Gamble has unveiled its first paper bottle for Lenor in partnership with Paboco, which is set for a pilot trial in Western Europe in 2022.
The trial rollout will form the basis of a 'test and learn' strategy, which the company hopes will help it to scale up paper packaging and incorporate it more widely across its portfolio.
On a macro level, as part of its '2030 Ambition', P&G aims to reduce its use of virgin plastics by 50% by 2030. Its Fabric Care Europe division has additionally committed to a 30% absolute plastics reduction by 2025 and to design for 100% recyclability by 2022 - it says that it is well on track for both commitments. Meanwhile, the Home Care division is committed to using no virgin plastics by 2025.
Paboco's paper bottle technology is being backed by a group of leading consumer goods companies and industry experts of which P&G is now a part, including The Coca-Cola Company, Carlsberg Group, The Absolut Company, L'Oréal, BillerudKorsnäs, and ALPLA.
This news follows an announcement last month from Unilever regarding its own paper-based laundry bottle, which is also set to be trialled in 2022. The Pulpex consortium, whose proprietary solution will be leveraged in that instance, is partnering with BASF, Stora Enso, and Diageo on its journey to roll out its own paper-based bottles.
Speaking on behalf of Paboco, interim CEO, Gittan Schiöld, noted: "Storing liquids in paper is particularly challenging, but its successful adoption could have major benefits for the planet. Having P&G Fabric & Home Care category as a partner in the paper bottle community is a huge boost to that vision.
"Not only does it really add weight to the viability of the technology but brings with it P&G's know-how to the table, offering new opportunities for scaling Paboco's paper bottle technology."
The bottle is being described as the first of its kind to be produced at scale, both in terms of its design and technology. It is made from sustainably sourced, FSC-certified paper and, initially, a thin plastic barrier made from post-consumer recycled PET.
Building on learnings from this announcement, P&G says that future versions of the bottle will integrate the barrier into the paper lining to create a seamless, 100% bio-based bottle, that is fully recyclable in the paper stream.