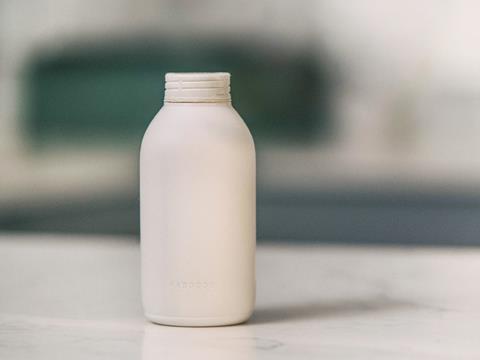 ALPLA has succeeded Billerud as the majority shareholder of Paboco and is now investing in scaling its manufacturing capacity, envisioning the production of a fully recyclable paper bottle at a new, state-of-the-art manufacturing site by the end of 2024.
Founded in a joint venture between ALPLA and Billerud, Paboco (The Paper Bottle Company) is based in Slangerup, Denmark, and uses pulp-forming technology to produce FSC-certified fibre-based packaging. It has been working with The Absolut Company, Carlsberg Group, The Coca-Cola Company, L'Oréal, and Procter & Gamble to test its first products since 2021.
Following this successful test phase, it is anticipated that series production for the next generation of paper bottles will begin in late 2024. ALPLA is taking over all Billerud's shares and is investing in Paboco in the hopes of industrializing the bottles at speed.
A new manufacturing site and development centre are set to open in Denmark for the market launch. Paboco currently hires eighteen employees, but this figure is expected to rise by the time production begins.
In the long term, Paboco aims to develop and scale fully bio-based and recyclable paper bottles.
"Safety, affordability and sustainability are the central criteria of our packaging solutions," says Philipp Lehner, CEO of ALPLA. "After several years of intensive development and groundbreaking innovations, the Paboco team is now ready to take its pioneering product to the market and establish the paper bottle as a sustainable alternative for a wide range of customers."
Tim Silbermann, CEO of Paboco, continues: "The vision of the fully bio-based and recyclable paper bottle has driven the team to create amazing results in just a short development period. With the bottle configuration now, we are targeting the beauty and fabric and home-care segment, but continuous development will also enable us to bring our next-generation bottle into further applications. We are happy that ALPLA is fully committed to supporting us on this journey."
"We at ALPLA work intensively on alternative materials, invest in promising projects and actively shape technological progress as a 'Family of Pioneers'," adds Christian Zmölnig, director of Corporate Research, Development and Innovation at ALPLA and chairman of the Board of Directors at Paboco.
Ricardo Rehm, CFO of ALPLA, and Rainer Widmar, managing director Central and Eastern Europe at ALPLA, join Zmölnig on Paboco's Board of Directors.
The transaction took place at the beginning of October, with the contracting parties agreeing not to disclose details.
The next-generation prototype of Paboco's paper bottle – featuring a paper closure from Blue Ocean Closures – was announced last year. It was anticipated that the solution would be applied to products in various sectors in 2023.
Paboco was subsequently nominated as a finalist in the 'Renewable Materials' category of our 2022 Sustainability Awards for its Paper Bottle.
More recently, RyPax and CelluComp revealed what claimed to be the first all-fibre bottle solution with a biodegradable and plant-based inner coating; and Absolut Vodka unveiled a new bottle made from 57% paper with a plastic lining in its pursuit of a 100% bio-based bottle.
If you liked this article, you might also enjoy:
The L'Oréal approach to packaging sustainability
What steps is Apple taking to make its packaging more sustainable?
How did Brazil achieve its 100% aluminium can recycling rate – and can it be replicated in the EU?
Experts have their say on the EU's Packaging and Packaging Waste Directive revisions
Also, if you're interested in packaging sustainability, you will want to attend our Sustainable Packaging Summit in Amsterdam on 14-15 November. The Summit brings together leaders and pioneers from across the industry to align strategically, learn, network, and create a critical mass to accelerate change. You can learn more by clicking here, and you can buy a ticket to attend here.