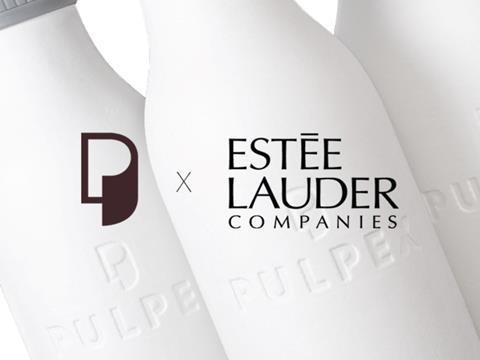 The Estée Lauder Companies says it will develop an 'industry first' recyclable paper bottle for the beauty segment as it joins the Pulpex partner consortium
Pulpex claims that it has created a paper bottle from wood pulp using FSC-certified renewable feedstocks from responsibly managed forests. The consortium, which is based on a collaboration between Pilot Lite Group and Diageo PLC, is aiming for the bottle to be recyclable in standard waste streams.
The Estée Lauder Companies will explore the opportunity of scaling the Pulpex bottling technology across its brand portfolio. Its brands include Estée Lauder, Clinique, DKNY, and Michael Kors.
The company has recently committed to reducing the amount of virgin petroleum plastic in its packaging to 50% or less by the end of 2030. Additionally, it has also set the goal of achieving 100% FSC-certified forest-based fibre cartons and ensuring over 75% of its packaging is recyclable, refillable, reusable, recycled, or recoverable by 2025.
Daniel Ramos, senior vice president of global packaging at the Estée Lauder Companies, comments: "Exploring alternative materials and more responsible concepts into our packaging design is a strategic imperative, but we know we can't do it alone. Scaling innovation will be key to driving sustainable packaging solutions."
"Collaboration plays a significant role in achieving our ambition, and as part of the Pulpex consortium, we are proud to help advance solutions not only for our brands and consumers but also for the industry at large."
Scott Winston, CEO of Pulpex, adds: "We are thrilled to partner with The Estée Lauder Companies as the first leader in beauty to join our consortium of leading companies working to create innovative packaging solutions that are better for both our consumers and the planet."
Earlier this year, Stora Enso signed an exclusive joint development agreement to use its formed fibre material, which is made by pressing wood-based pulps into shape inside a moulding machine, for the production of Pulpex paper bottles. Meanwhile, BASF recently announced that it would work on a proprietary, food-grade barrier technology for Pulpex's paper bottles.
Other members of the Pulpex partner consortium include Unilever, which is set to launch a paper-based laundry detergent in Brazil by early 2022, and PepsiCo.
Paboco has developed similar, first-generation technology for paper bottles that includes a recycled PET or PEF barrier film, which must be separated before the bottle enters recycling streams.
Coca-Cola was one of the first companies to announce that it would be trialling Paboco's paper bottle prototype, testing its performance on the market in a bid to develop a functional bottle that is 100% recyclable as paper in the future. Since then, Paboco has worked with Proctor & Gamble to produce a paper bottle for its Lenor range, which will undergo pilot testing in Western Europe in 2022, and Absolut as part of the same pilot scheme as Coca-Cola.