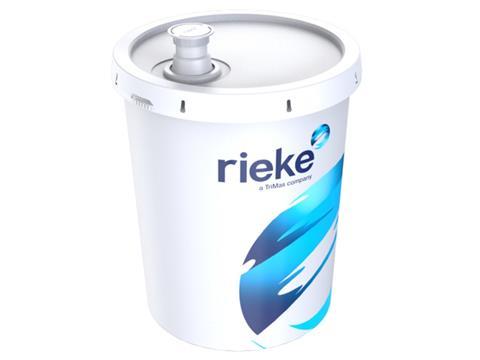 Rieke, a TriMas Packaging company, has launched the IMF-5 In-Mold FLEXSPOUT tamper-evident closure for plastic pails – moulded directly into the pail lid during the injection moulding process – to provide its customers with enhanced product and brand protection.
The permanent bond between the closure and lid makes it impossible to manipulate or break without detection – ensuring maximum product and brand protection for manufacturers, says the company. Additionally, the IMF-5 features a premium leak-resistant design and integrated tamper-evident pull ring to ensure secure product delivery.
While the IMF-5 FLEXSPOUT was designed primarily with product security in mind, the functionality of the closure for customers is also a key benefit. The IMF-5 features a retractable pull-out spout with a large pour orifice for controlled directional dispensing, making it suited for a wide range of industrial applications such as automotive oils and lubricants, paints and coatings, adhesives, and cleaning chemicals.
Additionally, the next-generation closure is comprised of a special blend of materials enabling improved flexibility and suitability for cold-weather applications. With its low-profile design, the IMF-5 can be conveniently stacked and installed robotically – for efficient, cost-saving processing, according to Rieke. The all-plastic, polyethylene design of the IMF-5 allows the closure to be easily recycled, making it a sustainable alternative to spouts consisting of mixed materials.
"The IMF-5 is truly an all-in-one solution. We are happy to support our customers in their fight against counterfeiting with a highly effective solution," explains Alistair Paterson, product marketing manager, Closures at TriMas Packaging. "This next-generation In-Mold FLEXSPOUT guarantees safety, security and exceptional product and brand protection along with easy handling and sustainable waste management."
A previous collaboration between KISICO GmbH and Colysis GmbH saw the development of a smart and secure plastic closure for medical products – equipped with an NFC tag to ensure the authenticity of a product, retrieve relevant information and package leaflets, and even remind consumers to take their medication.
Meanwhile, Silgan Dispensing's MeaSURE solution features a built-in chamber for controlled dosing ranging between 5 and 40 ml. It is expected to package laundry, cleaning, automotive, and personal care products.