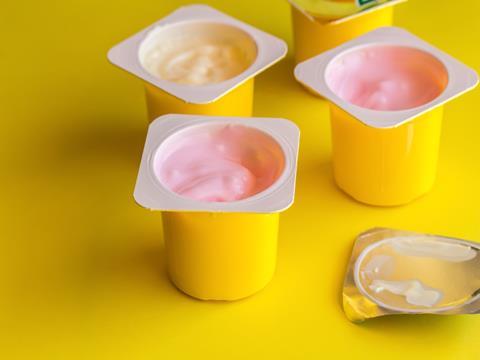 The value chain initiative, Styrenics Circular Solutions (SCS), has filed a second application for European Food Safety Authority (EFSA) approval of mechanically recycled polystyrene based on the Gneuss super-cleaning technology. What does this mean for the polystyrene value chain's circularity bid?
Fraunhofer IVV has submitted a scientific dossier representing the SCS initiative's second application for food contact authorisation for mechanically recycled polystyrene (rPS). While both submissions apparently cover the same end-consumer applications, including yogurt pots, beverage containers, and food trays, they are based on two different super-cleaning technologies as part of PET-like food contact recycling processes.
The super-cleaning technology
The second application is based on the super-cleaning technology of the plastic recycling machine manufacturer, Gneuss, which the group says has undergone "several successful" challenge tests. The technology used is Gneuss' Multi Rotation System (MRS) jump extrusion process that allegedly enables highly efficient super-cleaning based on high vacuum, high surface, and melt temperatures.
The initial mechanical recycling process –– where PS is sorted into bales and then ground into flakes, which are subsequently hot washed –– reportedly produces PS with a purity of 96%. Near infrared and high-speed camera technology are used as part of the final sorting process to remove any remaining non-rigid or non-white PS flakes.
This is the point at which the flakes enter the super-cleaning stage. Melted at temperatures of around 240oC, the surface area of the polymer is then enlarged to enhance exposure to the vacuum technology that further removes any remaining impurities before pelletisation. Overall, the group claims that the super-cleaning process produces PS with a purity of over 99%.
The initiative claims that, in a standard extrusion machine used to produce PS sheets, the mechanically recycled and super-cleaned PS performs "identically" to virgin PS with unchanged processing parameters and surface quality.
Additionally, rPS preforms the same as virgin PS during the thermo-forming stage, according to the group. This produces PS products, such as coffee cups, that are apparently as suitable for food contact applications as those made from virgin PS.
Fraunhofer IVV were responsible for demonstrating the cleaning efficiency in the German challenge tests.
Proving the potential of polystyrene
SCS proposes rPS as a "drop-in solution" for extrusion and thermo-forming process, with the initiative adding that the technology makes the most of the separation potential and recyclability of PS. It claims that PS will not degrade during subsequent recycling process and so can be recycled over and over again.
During a series of webinars hosted by Packaging Europe, SCS outlined the results of a life cycle analysis (LCA) that supported the low carbon footprint of recycled PS, offering emissions savings of 80% for food contact mechanical recycling and 75% for dissolution and depolymerisation. This "favourable" LCA suggests that rPS could be a "serious consideration" when it comes to developing the circular economy.
Jens Kathmann, secretary-general of SCS, explains: "The submission of this second application for a different super-cleaning technology underlines our confidence in the safety of rPS as food contact material.
"The expansion of the technological base is important to give investors in food grade mechanical recycling facilities a choice.
"Now we already have two proven super-cleaning technologies and we are convinced that several other suitable technologies will follow.
Constanze Hirschhaeuser, vice president of quality, HSE & sustainability at PACCOR Packaging GmbH, one of SCS' converter members, adds: "This second scientific dossier by Fraunhofer IVV and application for EU authorisation is very welcome news by the PS value chain, confirming once again that rPS meets the strict purity requirements for food contact materials.
"We firmly believe that recycled PS is a drop-in solution, behaving exactly like virgin material in production and it retains all of the excellent qualities of PS, with an added circular credential."
Last year, RecyClass released guidelines for the recycling of PS, with the main requirement being that the density of packaging must be between 1 and 1.07 g/cm3. The guidelines are aimed at boosting the recycling potential of PS in Europe, with David Eslava, RecyClass' PS technical committee chairman and deputy director at Eslava Plasticos, commenting at the time: "As polystyrene packaging is not widely recycled in the EU yet, development of this new guideline is pivotal in getting the recycling of polystyrene-based packaging off the ground."
Remaining uncertainties
However, challenges remain in the PS industry's bid to become circular. SCS acknowledges that the EU has recently proposed a new draft regulation on recycled plastics, which would supersede previous regulations for food contact and likely come into effect in July 2022. The proposal may alter rules for the quality and processes behind recycled plastics intended for food contact use, although SCS says it is "confident that the underlying criteria developed by EFSA to assess the safety of the recycling process remain valid".
Speaking to Packaging Europe last year, Kathmann also noted the challenge of sourcing feedstock: "We are currently investing in feedstock mobilization for our circular PS, which is crucial to gaining the confidence of the value chain.
"We need a steady supply of feedstock and the right sorting facilities in place and so we are working on getting the message to waste managers, EPR schemes and so on that it makes perfect sense to collect PS, EPS and XPS because there will be a strong demand for these fractions."
The on-going impacts of COVID-19 and global supply chain challenges, including rising transport prices and raw material shortages, means that bale and pellet prices are reaching "record high levels" for some segments of the plastics industry. The increasing demand for recycled materials alongside these issues has led to some key players making new bids to secure recycled feedstock. For example, Trinseo last year entered a definitive agreement to acquire Heathland BV, a plastics recycling and converting company which focuses on collecting PS waste among other materials.
As for the results of the SCS' applications to the EFSA, the risk assessment deadline for the first application is 23rd March 2022. This means the next steps for food contact recycled PS remain in development - but the evidence so far appears to be promising.
Kathmann concludes: "We look forward to positive opinions of EFSA, both on our earlier submission and eventually this application."