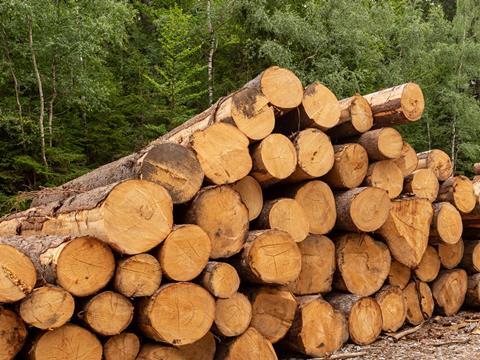 Wood Resources International (WRI) has shared market insights for the global forest industry this quarter, including Europe's close proximity to a twenty-year high in sawlog prices and a decline in its pulp prices due to an apparent decrease in global paper demand.
Where global timber markets are concerned, sawlog prices have relaxed from record highs, according to WRI, with the Global Sawlog Price Index (GSPI) falling for two consecutive quarters from its all-time high in 2Q/22 – this was apparently at its most pronounced in Western North America, the Baltic States, Central Europe, and Eastern Asia.
While the European Sawlog Price Index (ESPI) also saw a decline in late 2022, with prices falling by 6% in six months; however, current sawlog prices remain close to their highest levels in over twenty years, says WRI.
In the global wood fibre markets, the Global Hardwood Fibre Price Index increased by 27% over two years, a faster rate than its softwood equivalent. Both have trended upwards for 2.5 years and reached their highest rates in eight years in 4Q/22.
Pulp prices in Europe and North America are said to have fallen by 5-15% between September 2022 and early 2023, a development attributed to weakening global demand for paper. 60% of Europe's total pulp exports were attributable to the Nordic countries at an increased rate from its contribution of less than 50% in 2013.
Demand for lumber in the worldwide market reportedly decreased in the fourth quarter of 2022 and was down year-on-year in three of the four major North American regions in 2022. Almost 38% of its lumber is currently said to be produced in the US South in a record-high share following 13 consecutive years of increasing output from sawmills in the region.
Nordic export markets were mixed. While Finland was the only country in northern Europe to reduce its shipments in 2022 – with WRI also reporting that the country's log and wood chip imports from Russia fell from 2020's all-time high to zero in Q3/22, coinciding with Russia's estimated lost value of $1 billion in lumber exports last year – demand for Swedish lumber grew in the US, China, and the MINA region.
German lumber demand apparently fell in a 34% year-on-year decline in softwood lumber imports. Meanwhile, China's lumber import prices fell by around 7%, seeing its most significant declines in stock shipped from Finland, Sweden, and Canada.
Additionally, while Asia's share of global wood pellet imports increased to a record 32% in the 4Q/22, Europe's residential and industrial wood pellet prices were at all-time highs; however, the latter are believed to have fallen in early 2023.
Not long after the Russian invasion of Ukraine began, WRI suggested that European lumber markets would experience short- and long-term impacts, with disrupted panel, pellet, log, and pulp shipments among the after-effects.
It also noted other outcomes last year, such as record-high timber harvests in Central Europe in preceding years – an "unsustainable level" of roundwood harvesting apparently being attributable to an outbreak of spruce bark beetles in Czechia, Germany, and beyond.