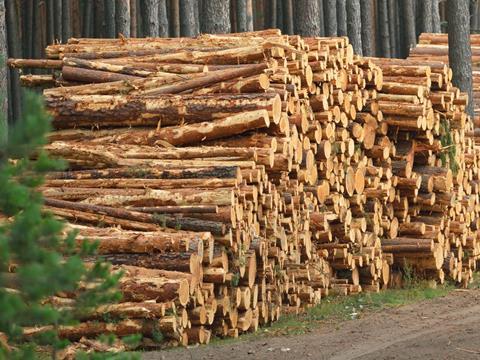 Wood Resources International (WRI) has calculated an almost 50% decrease in export prices for Russian lumber since early 2022 – an outcome attributed to import boycotts stemming from Russia's invasion of Ukraine, lower demand in China, and the weakening of the ruble against the US dollar.
Since mid-2022, the prices of Russian lumber exports are said to have decreased from an all-time high of US$310/m3 in early 2022 to US$163/m3 in the third quarter of 2023. These declines are most pronounced in Russia Northwest, followed by Russia Far East and Siberia.
In 2020 and 2021, Russia was said to be the largest softwood lumber exporter in the world. Its status declined in 2022 following the conflict between Russia and Ukraine, at which point Europe, North America, and key markets in Asia began to boycott Russian forests.
As such, export volumes apparently decreased from a record high of over 31 million m3 in 2020 to around 23 million m3 in 2022. This year, shipments are estimated to have fallen lower than 21 million m3 for the year, totalling a 25% or 4.6 million m3 decrease in export volume since 2021.
Many of the lost shipments to Europe originated from sawmills in the Northwestern province; these exports are not thought to have been redirected to other importing countries in Asia or the MENA region, leading to a decline in export volumes. China's weakened economy has also contributed to this outcome, WRI states.
In 2021, less than 70% of total exports went to China and the CIS countries. This figure is said to have risen to 85% in the first seven months of 2023.
However, WRA adds that demand for most forest products has dropped in the Russian domestic market, which has also weakened – leading to an estimated lumber production decrease of nearly 20% over the past two years.
In a previous report, WRI explained that timber from Russia and Belarus could not be used in PEFC- or FSC-certified products due to its status as 'conflict timber'.
These shortages have had knock-on effects in the packaging industry, with Neil Osment, managing director of paper packaging industry analysts NOA, noting that Russia's war on Ukraine had led to lower demand for corrugated and folding cartons.
More recently, WRI noted that Russia's all-time high for wood chip and log imports to Finland in 2020 declined in the third quarter of 2022, with Finland joining the boycott of Russian goods around this time.
If you liked this article, you might also enjoy:
The L'Oréal approach to packaging sustainability
The way we talk about plastic needs to change – here's how to get it right
What steps is Apple taking to make its packaging more sustainable?