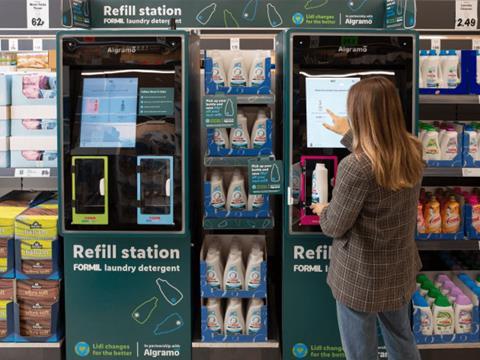 Lidl, in partnership with Algramo, will offer in-store automated refill stations for liquid laundry detergents in smart HDPE bottles as part of a six-month trial.
Lidl's new laundry detergent refill stations will be trialled at the retailer's Kingswinford store in the UK, with the intention of measuring performance and consumer engagement.
According to Lidl, the automated, touchscreen refill machines will be located in-store by the laundry detergent section. The liquid refill machine will apparently offer four laundry detergents from the Formil brand – bio and non-bio concentrated detergent, as well as Tropical Lily and Honey Pearls concentrated fragrance detergent – which can be purchased in refill bottles made from HDPE.
Lidl claims that HDPE's durability will allow for multiple refills of the laundry detergent bottle, which it adds is 100% recyclable. The company says that re-using the refill bottle saves 59g of plastic per use, the weight of the equivalent single-use detergent bottle.
In addition, Lidl explains that the Formil refill bottles contain a chip that allows the machine to recognise them and ensures they are filled up to 980ml. According to the retailer, the machine can recognise refill bottles that are being used for the first time, upon which consumers are charged the same price as for the equivalent single-use product (£1.69 for concentrated detergent and £1.89 for concentrated fragrance detergent), or when they are bought in for re-use, for which consumers are offered a 20p discount.
Lidl notes that customers cannot bring their own bottles as the refill bottles are specifically designed for use with the machine. The machine prints a barcode that customers can take to the tills in-store to pay for the detergent with the rest of their shopping.
A number of other retailers in the UK have trialled refillable options for food and personal care products.
First launched in Middleton in the UK, ASDA has partnered with Unilever to offer brands including Persil, PG Tips, Radox, Cif, Simple, and Alberto Balsam from refill machines in-store. The refillable options are enabled by Re, a company that offers the stainless steel refill bottles and automated machines behind the scheme. A £2 deposit for the bottles acts as a coupon for the next purchase using the Re Bottle. The scheme has since expanded to include select Co-Op convenience stores, offering the same brands from Unilever.
Meanwhile, in September 2021, Tesco began offering refills for brands including Alberto Balsam, Bisto, Carex, Coca Cola, Ecover, Finish, Heinz, Meridian, Persil, Radox, Simple, and Tetley, among others, as part of its partnership with Loop. Overall, 88 everyday products are allegedly available as part of the scheme, with plans to scale up the solution based on information gathered from its initial performance.
Both Marks & Spencer and Waitrose also have refillable options in some stores. At M&S, customers can buy pasta, rice, cereal, confectionery, and even frozen fruit as part of its Fill Your Own solution, with over 40% of the refillable lines outselling the packaged alternatives according to the retailer. Waitrose's 'Unpacked' shop in Oxfordshire offers food staples, frozen fruits and vegetables, washing-up liquid, and detergents, and the product lines available were expanded last year as demand for refillable options grew by nearly 9% in six months.
Earlier this year, M&S and Waitrose joined Morrisons, Ocado, and CHEP to form a Refill Coalition that they claim is the largest multi-retailer refill trial in the world. As well as providing refill options in-store, the Refill Coalition intends to establish an end-to-end solution where customers can access refillable options for bulk home deliveries.
Finally, Aldi made 'packaging free' options available for customers last year at its store in Cumbria, where free paper bags are available for customers to purchase items such as pasta and rice priced by weight. Unlike the refill trials offered by ASDA, Tesco, M&S, Waitrose, and Lidl, Aldi's 'packaging free' options do not require specialist bottles and containers or for customers to pay an initial deposit. If successful, Aldi says it will look to expand refillable options to other stores in the future.