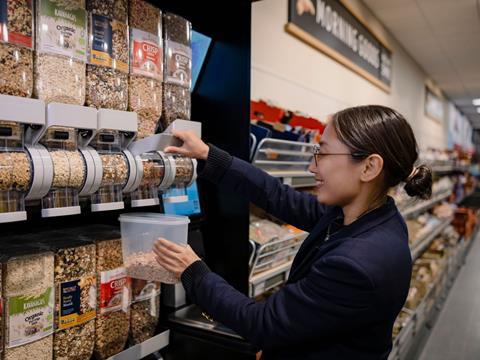 The UK Refill Coalition – constituting GoUnpackaged, Aldi UK, Ocado Retail, and CHEP – is piloting an in-store refill system for dry goods at Aldi's Solihull store and online in a move hoped to reduce single-use plastics.
The solution is a reusable bulk vessel designed to deliver refills at scale for key food staples like cereals or pasta, as well as cleaning, personal care, and other household products. In turn, it is set to reduce the products' prices by removing single-use packaging from the equation and enhancing efficiencies.
Current bulk dispensers will be replaced with reusable vessels, which can be filled and shipped with the product and are located at in-store refill stations. Consumers are encouraged to bring their own packaging to be refilled using a weighing system, with each reusable vessel expected to replace twenty-four single-use plastic packs.
Meanwhile, the online consumer-sized vessel is pre-filled by the supplier and shipped to consumers via their Ocado orders. The vessels, which are said to replace five single-use plastic packs, can be returned to the Ocado driver after use.
The solution can apparently be utilized by any supplier or retailer to cut down on costs and food waste, as well as increase the number of stores that can sell refills. This is hoped to drive consumer accessibility to refillable packaging – between 67% and 85% of UK adults are reportedly willing to try refillables in a mainstream supermarket while 73% would opt in during online shopping – and help the retail industry embrace refills quickly.
Supported by UKRI's Smart Sustainable Plastic Packaging Challenge fund, delivered by Innovate UK, the Coalition has partnered with Berry Global, DIGI, and Eden and Trade Fixtures to develop new equipment for the solution. If the trial is successful, the Coalition intends to roll out refill stations across their stores and online operations.
The Coalition also believes that, if every UK household refilled one item per week, over 1.4 billion items of single-use packaging could be eliminated every year.
The live solution will be open for industry colleagues to visit in early 2024 and learn more about the 'behind the scenes' supply chain developments for in-store and online retail.
A joint statement from the Refill Coalition reads: "We're delighted to be launching this new refill solution – initially into Aldi, followed by Ocado Retail's online launch early next year– a system we're proud to have worked on for over three years to bring to market. As a Coalition we share the mutual objective of reducing single-use plastic packaging and believe that the solution we have developed presents a landmark opportunity for us to make a step change in the commercialisation of refills which we know can play a significant role in the reduction of single-use plastic packaging."
Luke Emery, Plastics and Packaging director at Aldi, continues: "We are pleased to have installed the first in-store refill solution as part of the Refill Coalition in our Solihull store. We are continuing our work to reduce single-use plastics and packaging, and making unpackaged product options more commonplace for our customers is a key part of this."
"It's been a pleasure to join forces with our industry peers in the Coalition with the mutual objective of reducing single-use plastic packaging," says Rachel Cox-Reynolds, director of Own-Brand, Technical and Sustainability at Ocado Retail. "We're proud that Ocado will be leading the concept for online deliveries in the new year, making it easier than ever for customers to refill everyday staples from the convenience of their doorsteps."
Alasdair Hamblin, general manager, Northern Europe at CHEP, comments: "I am thrilled to see our collective vision as the Refill Coalition brought to life with the launch of this trial. CHEP's business is defined by our sustainable, circular economy model of share and reuse.
"This pilot phase is an invaluable opportunity to collaborate and test that model in a new environment. Together with our partners, we are committed to redefining industry standards, reducing single-use plastic packaging and forging a regenerative supply chain where we move more with less for a better tomorrow."
"We're so proud to have convened the Coalition and brought a brand-new solution to market that has the potential for adoption across a global supply chain," states GoUnpackaged director Catherine Conway. "The Coalition has worked tirelessly since 2020, and overcome numerous obstacles, to reach this go live point. An industry-wide approach will lead to a refill system that works for everyone in the supply chain and make refilling easier for shoppers."
Paul Davidson, Smart Sustainable Plastic Packaging Challenge director, concludes: "We are delighted to be supporting this collaborative, full supply chain initiative that is working to develop a complete solution for refill in the grocery sector. With the launch of Aldi UK's first in-store trial, and more to come, the Refill Coalition is making a major contribution to the mainstreaming of refill and giving retailers and consumers an easy and convenient refill solution to help reduce single-use packaging."
Next year, a tareless weighing system and liquids dispense – meaning consumers will not have to weigh their own container before refilling – will be rolled out, and a bulk home delivery refill solution will be launched by Ocado.
Aldi joined the Refill Coalition earlier this year, aiming to establish an end-to-end refill solution and scale up beyond the refill stations currently implemented by individual retailers.
Jodie Roussell and Antje Shaw from Nestlé also spoke to Packaging Europe about the company's experience in reusable and refillable packaging trials and pilots, sharing its top tips to ensure their success.
If you liked this article, you might also enjoy:
The L'Oréal approach to packaging sustainability
What steps is Apple taking to make its packaging more sustainable?
How did Brazil achieve its 100% aluminium can recycling rate – and can it be replicated in the EU?
Experts have their say on the EU's Packaging and Packaging Waste Directive revisions
Also, if you're interested in packaging sustainability, you will want to attend our Sustainable Packaging Summit in Amsterdam on 14-15 November. The Summit brings together leaders and pioneers from across the industry to align strategically, learn, network, and create a critical mass to accelerate change. You can learn more by clicking here, and you can buy a ticket to attend here.