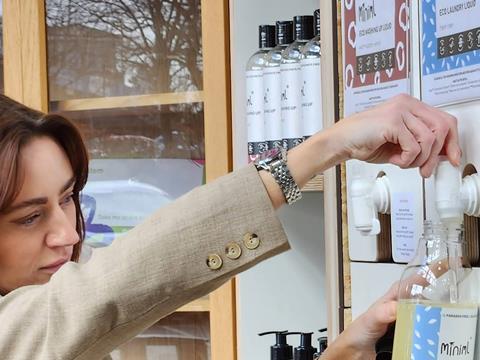 Fenton Packaging Solutions has partnered with Acopia and The Friendly Chemical Co. (FCC) with the aim of cutting down on rigid personal care and household packaging by opening refill stations for Miniml-brand products at two charity shop locations.
Refill stations were unveiled on 23rd March in two locations in the UK – one at the Air Ambulance Hanger Superstore in Melton Mowbray, Leicestershire, and the other at the Barnado's Superstore in Sutton Coldfield, Birmingham, West Midlands.
"We are excited to launch the new refill system which eliminates the use of rigid plastic containers, and makes using a refill station easier," says FCC co-founder Scott Rudd. "Our mission is to make it easy to use natural cleaning products, while using less plastic.
"Miniml launched three years ago when we were at the local refill shop, and we questioned what happened to the containers once the store had finished with them. When we discovered that they were recycled or thrown away, the idea of Miniml was born. We thought we could do it better by collecting the containers, cleaning them and re-using them again creating a closed-loop supply chain.
"A breakthrough in developing the new system came through working with Leeds-based Fenton Packaging Solutions, which is a UK leader in sustainable bag-in-box packaging solutions.
"Fenton helped us develop a sustainable refill solution which does away with the traditional rigid plastic jerry cans used in the sector, replacing them with a reusable packaging format that we can then reuse again and reduce our carbon impact by shipping the flat packaging back to us when they are empty rather than the bulky rigid containers.
"Installing the Miniml refill system at two major charity sites is just the start, as the system will work perfectly in any retail outlet. But, we already have more charity sector launches planned for later this year. The demographic of people who use charity shops is a perfect match for our sustainable refill station model, as they generally understand the importance of ethical and sustainable choices, and are often seeking a zero-waste lifestyle."
Chris Warren, sales development director at Fenton Packaging Solutions, adds: "We are pleased to be able to help FCC achieve its zero-waste goals by providing a sustainable bag-in-box solution. The bags we supply at the start point are 10% of the weight of the equivalent plastic jerrycan, so that's an immediate 90% saving in plastic weight.
"In addition, the bags can be washed and reused multiple times and then upcycled, while the boxes can also be reused or upcycled. Compared to using rigid plastic jerry cans, each Miniml refill system therefore saves 100% of plastic as the containers are used over and over again.
"For many years, Fenton Packaging Solutions has offered the most sustainable packaging solutions available, and we are actively migrating customers to bag-in-box or PCR Plastic Containers which contain a minimum of 30% recycled content."
Retailers have also engaged in efforts to implement refill solutions for personal care products, from the in-store automated refill stations at Lidl to the refillable own-brand laundry and cleaning products trialled by M&S.
Paul Foulkes-Arellano from Circuthon Consulting has also spoken to Packaging Europe about his view on refill and reuse, observing current trends and frontrunners in the market.
If you liked this article, you might also enjoy:
McDonald's Director of Sustainability in Europe on the company's approach to packaging sustainability
McKinsey on whether or not on-pack sustainability claims affect consumer spending
Perspectives from industry-leading experts on the EU's Packaging and Packaging Waste Directive revisions
A deep dive into the most important packaging sustainability trends and solutions