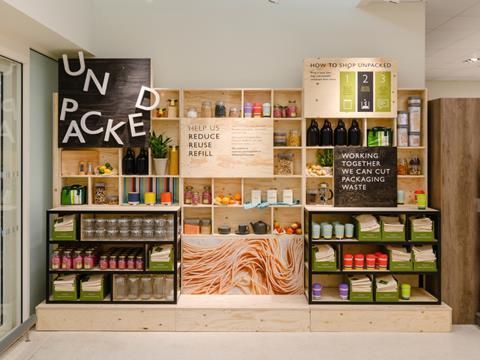 UK retailers Marks &Spencer, Morrisons, Ocado, Waitrose & Partners and the supply chain solutions company CHEP have formed a Refill Coalition with the goal to co-design and scale an end-to-end refill solution to be trialled both in stores and for bulk home deliveries later this year.
First convened in 2020 by Unpackaged, the Refill Coalition is aimed at reimaging how food staples like pasta and grains, as well as household and personal care products, are supplied. The coalition is planning to offer a scalable end-to-end solution, which it says is needed to tackle single-use packaging waste, with an "industry first" bulk home delivery refill option.
Subject to a successful trial, the Refill Coalition retailers are planning to roll out refill stations across their stores and online. The ambition is to test the system live in stores and online, starting later this year.
Some of the retailers have already introduced refill stations in stores. M&S, one of the members of the Coalition, launched a 'Fill Your Own' packaging-free refillable grocery concept – with items on offer including pasta, rice, cereal, and confectionary – in 2019, as part of its target to reduce its packaging use by 25% by 2025. The retailer added its refillable concept to a third store in December 2020, with 40% of the lines reportedly outselling the packaged alternatives.
Waitrose also introduced refillable stations in select stores in 2019 and has committed to making all its own-brand packaging either widely recycled, reusable, or home compostable by 2023. After sales of refillables at Waitrose's four 'Unpacked' shops grew by nearly 9% in the first half of 2021, the retailer expanded its range by adding 13 new lines according to customer requests, including loose tea for the first time.
The Coalition says there is strong consumer appetite for refillable stations, which give customers the opportunity to bring their own reusable containers to buy loose products. Opinium Research found that up to 85% of UK adults would try refillable solutions if available in a mainstream supermarket, as well as 73% of those who shop online.
Having apparently made "significant" investments into the scheme to-date, the Refill Coalition says that "industry-wide collaboration is crucial" to achieve refillable options at scale.
According to a joint statement from M&S, Morrisons, Ocado, Waitrose & Partners and CHEP: "We're delighted to be joining forces with the mutual objective of reducing single-use plastic packaging.
"The universal end-to-end solution being developed by The Refill Coalition presents a landmark opportunity for us to make a step change in the commercialisation of refills which we know can play a significant role in the reduction of single-use plastic packaging."
Catherine Conway, founder of Unpackaged, adds: "Working together to create a universal system gives us the best chance of scaling refills so they become accessible to every shopper in the UK, as we know consumers want less single-use plastic packaging on the items they purchase.
"An industry-wide approach will lead to a refill system that works for everyone in the supply chain and will make refilling easier for shoppers."
Claire Shrewsbury, director of insights and innovation at WRAP, says: "This will support making serious headway in eliminating single-use plastic packaging; one of the targets of The UK Plastics Pact.
"We know shoppers are ready to embrace this way of shopping, but lack of availability, in-store and online, has been a major barrier. This initiative could be a game-changer in accelerating refill and reuse in our supermarkets and pave the way for it to become mainstream."