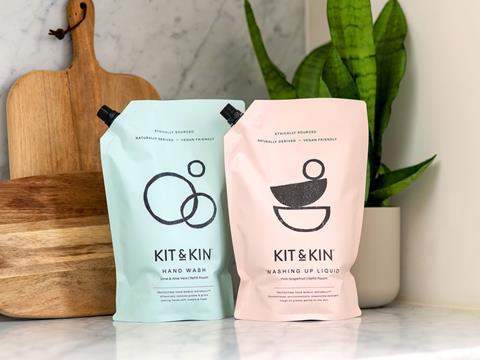 Kit & Kin has produced a new range of plant-based eco-cleaning products – stored in refillable bottles with refill pouches that can be returned for recycling – and ensured consistent branding with its mother and baby products in collaboration with B&B.
Kit & Kin's twelve products include hand wash, all-purpose cleaner, multi-surface cleaner, and glass and mirror cleaner. Each claims to be non-toxic, thus protecting the consumer, their homes, and rivers and oceans outside the home.
With the new range, consumers can apparently reuse the refillable bottle and recycle it at end-of-life. Empty refill pouches can be sent back to Kit & Kin at no extra cost, where it will apparently be recycled in a specialist process.
B&B aimed to maintain consistency and recognizability across Kit & Kin's ranges. The packaging for its original nappy, skincare, and wipe products sought to avoid childish codes and imagery, instead looking towards a stylish, Scandinavian-inspired look and feel, and B&B felt this was appropriate for the newer product additions in the homecare sector.
Therefore, Kit & Kin has carried over the same brand name, logotype, and tagline into the new cleaning range. Its 'soft, gentle and nature-inspired' visual language is thought to offer a 'layer of sophistication' to the packaging and match the brand's mother and baby products while remaining its own distinct product line.
Its refillable structures are inspired by classic brown apothecary bottles and feature the Kit & Kin logotype, functional black heads, and simple screened-on descriptors.
"Working with sustainable brands has always been at the heart of B&B's ethos, and we're so proud to have maintained our longstanding relationship with one of the UK's fastest-growing eco-focused brands," says Shaun Bowen, co-founder at B&B Studio. "Creating the cleaning range for Kit & Kin has so clearly demonstrated the strength of the original branding, and its ability to successfully flex in new directions as the brand continues to expand."
Chris Money, co-founder and director at Kit & Kin, adds: "It's Kin & Kin's mission to become the number one sustainable lifestyle brand for families by providing everyday non-toxic essentials that are safe, effective, affordable and eco-friendly. Extending our brand into eco-cleaning represents a huge step on that journey, and ensuring the range met our high standards for desirable design was crucial.
"As always, B&B was a loved and trusted collaborator throughout the creative process – we are over the moon with how our brand now effortlessly fits in a whole new category, and can potentially attract a whole new group of eco-conscious consumers."
Ethical cleaning company Bio-D is utilizing a range of post-consumer recycled HDPE reusable bottles from Berry Global to package a range of home care products.
MACK also claims to have achieved a 'world-first' for the home care and laundry market by using Notpla's plant-based, water-soluble film into its refill cleaning product line.
If you liked this article, you might also enjoy:
The L'Oréal approach to packaging sustainability
What steps is Apple taking to make its packaging more sustainable?
How did Brazil achieve its 100% aluminium can recycling rate – and can it be replicated in the EU?
Experts have their say on the EU's Packaging and Packaging Waste Directive revisions