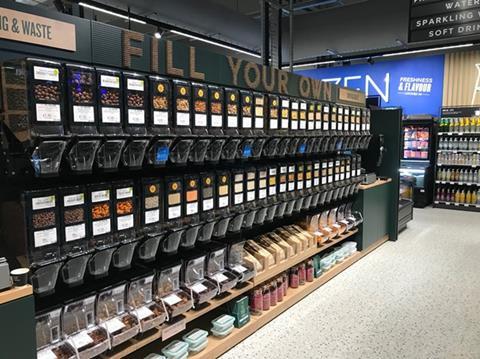 British retailer Marks and Spencer has extended its Fill Your Own concept to a third store, supporting customers to reduce and reuse with over 50 lines of refillable grocery essentials and frozen fruit.
The grocery range spans pasta, rice, cereal, and confectionery, and customers in the new store can also shop refillable frozen fruit such as mango, pineapple, and raspberries.
The current best-selling cupboard essentials include four-berry muesli, basmati rice, chocolate raisins, and whole porridge oats; and this week, M&S has added favourites to Fill Your Own including cornflakes, rice pops, and tri-coloured pasta.
The initiative has continued to prove popular amongst customers and, despite shifting consumer behaviour during the pandemic, over 40% of the lines are currently outselling the packaged alternatives.
In a bid to help customers shop with confidence, M&S has introduced additional hygiene measures for Fill Your Own, including increased cleaning and hand sanitiser, with colleagues on-hand to help customers fill, weigh and pay. Customers can bring in or purchase reusable containers, or alternatively free, recyclable paper bags are on offer for those who wish to use them.
As M&S continues developing its renewal programme, the retailer plans to further expand its Fill Your Own concept as a key feature of its new format stores.
Since 2018, M&S Food claims to have removed over 2,000 tonnes of plastic and has stopped using black plastic as part of its target to make 100% of its packaging recyclable by 2022.