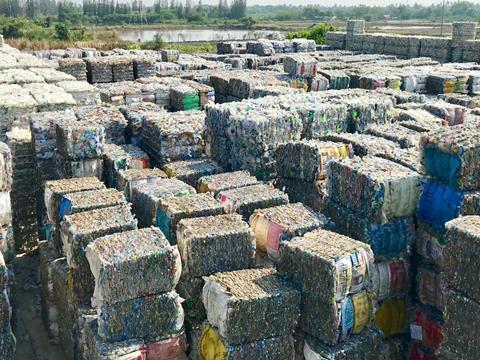 According to Plastics Recyclers Europe, the availability of sorted plastic waste is currently low enough to be negatively impacting the operations of plastic recyclers across Europe, with the organisation warning that this presents a barrier to meeting the EU's recycling targets.
An unforeseen challenge?
Plastics Recyclers Europe says that the struggle to source plastic waste for recycling "comes unexpectedly" following a decline in the export of waste from Europe.
This fall in exports can be partially attributed to the strengthening of the Basel Convention, which includes the objective to protect human health and the environment against the adverse effects of hazardous waste. In January 2021, amendments to the Basel Convention came into effect with the aim of "enhancing the control of transboundary movements of plastic waste" and clarifying the scope of plastics considered either to be hazardous or not hazardous.
However, while Plastics Recyclers Europe claim the tightening of the Basel Convention has led to fewer exports of plastic waste from Europe to other parts of the world, it is worth noting that non-governmental organisations including the Basel Action Network (BAN), Greenpeace, and Zero Waste Europe have claimed that EU countries including Germany continue to illegally export plastic waste. This suggests that the Basel Convention does not cut entirely into export activity.
Meanwhile, the Organisation of Economic Co-operation and Development's (OECD) Decision on Transboundary Movements of Waste supervises the movement of wastes destined for recovery operations specifically between member countries – as opposed to the wider-reaching Basel Convention, which includes 189 parties. However, the two are closely connected; in 2020, an amendment now requires hazardous plastic wastes identified by the Basel Convention to be subjected to the OCED's Amber control procedure, meaning they will be controlled by a strict consent procedure with a consideration period of 30 days that allows countries to send waste back to its place of origin.
Another factor that has seemingly led to a drop in European exports of plastic waste is the import restrictions introduced by China under its National Sword policy in January 2017. Plastics Recyclers Europe says that these restrictions led to one of the biggest drops in plastic waste exports from Europe in 2018.
Plastics Recyclers Europe claims that the Basel Convention, OECD Decision, and China's import ban have together enabled the continuous decrease of exported waste from Europe to developing countries from 3Mt in 2014 to 1Mt in 2021. Overall, the organisation explains that these factors should point to a more positive picture of plastic collection, sorting, and recycling in Europe – but warns that this may not be the case.
The gap in supply
Installed recycling capacity in Europe has also expanded in recent years, in part to process plastic waste that is no longer being exported in such high volumes. Plastics Recyclers Europe reports that installed recycling capacity for plastics increased by 1.1Mt in 2020, representing a 13% rise from 2019. The organisation adds that this is part of the 60% growth seen over the last four years.
According to Ton Emans, president of Plastics Recyclers Europe: "The recent EU policy and global developments have boosted massive investments in the plastic recycling capacities on the continent as in 2020 the plastic recycling industry invested €1.5bn which translates into 1.1Mt additional installed capacity when compared to the previous year and a total of €4.9bn of investments since 2017.
"However, without stable, high-quality input materials the industry's efforts to reach the new recycling targets might be hindered."
Plastics Recyclers Europe claims that despite a decrease in exports and an increase in recycling capacity, no substantial additional quantities of waste are being sent to recyclers today. The organisation says this is despite an increase in the price of sorted waste, pushed up by the growing demand for recycled materials. For example, ICIS reported that the price of rPET had reached a record high for the European market in January 2022. The company attributed this largely to a tight supply and demand situation linked to challenges including the COVID-19 pandemic.
Plastic Recyclers Europe highlight lacking collection infrastructure as creating a gap in the supply of sorted waste to European recyclers. According to the organisation, only 9Mt of plastic waste is being sorted out of 30Mt collected in total across all streams, including but not limited to packaging, with the remainder reportedly either incinerated or placed in landfill. Statistics apparently also demonstrate a 20Mt gap in the amount of waste that is generated compared to that which is put on the market.
For ICIS, the drop in the supply of sorted plastic waste is not wholly unexpected. Mark Victory, senior editor, recycling, at ICIS, told Packaging Europe in December 2021 that rising energy and transport costs have led to as much as a 70% year-on-year increase in the cost of collecting, sorting, separating, and recycling waste. This, along with tight supply, strong demand, and structural availability shortages of sorted mono-material bales, is reportedly contributing to significant price hikes for bales.
Alongside insufficient collection and sorting capacity, ICIS points to a number of building challenges that have contributed to the shortages of sorted bales over the last few years. This includes the delay in polyolefin recycling projects due to the outbreak of COVID-19, with many of these coming onstream later than expected in 2021, and the simultaneous disruptions to existing sorting centres that apparently lowered operating rates. Victory also emphasises "pre-existing low inventory levels", which appears to contradict Plastics Recyclers Europe's claim that this challenge is unforeseen.
Bringing collection on par with capacity
"Robust sorting and collection infrastructure is a must to increase stable feedstocks for European recyclers," explains Emans.
Plastics Recyclers Europe says that challenging figures on collection and sorting rates are critical to divert recyclable plastic from landfills and incinerators, which it adds is needed to create economies of scale for recycled polymers.
The organisation is therefore calling on transparent reporting on waste generation, collection, and sorting so that missed quantities can be identified and recycled.
In March 2021, Plastics Recyclers Europe, in partnership with Petcore Europe, PlasticsEurope, and VinlyPlus, formed PolyREC, which will monitor, verify, and report plastics recycling rates and update data using a common collection system. Earlier this year, PolyREC was recognised as an official data collector for the Circular Plastics Alliance (CPA).
Plastics Recyclers Europe's view on collection is shared by other organisations including CEFLEX, which identifies the collection of flexible packaging as key to facilitating a circular economy. CEFLEX says that all flexible packaging should be targeted for collection, with harmonisation needed to ensure that paper and plastic flexible packaging is not collected together to improve the quality of bales after sorting. For flexible plastics specifically, CEFLEX also has design criteria that prioritise mono-material compositions.
According to CEFLEX, a truly circular economy should be demand-driven. The organisation works backwards – starting with what enters the market (and thus must be sorted and recycled) and ending with collection systems – to build a picture of how the value chain for flexible plastics can be enhanced by high demand. While acknowledging the significance of collection as the step that enables the other points of the value chain to function, this demand-driven model also demonstrates the essential role of sorting in fostering circularity.
Ultimately, Emans says that the lack in supply of sorted plastic waste could "slow down the transition towards full plastic circularity". Plastics Recyclers Europe cautions that this could negatively impact the European plastics industry's ability to meet EU targets, such as the aim to use 30% recycled content for plastic bottles by 2030.