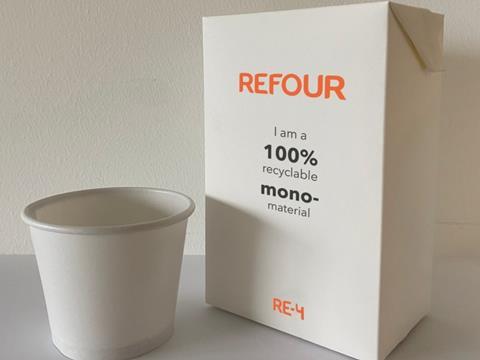 Refour's RE-4 monomaterial is formed of air, minerals, and around 20-30% polypropylene (PP). According to Refour, the material maintains its mono-structure in public waste recycling streams with other plastics, allowing it to be recycled, while it also offers the material properties for continuous reuse.
We spoke to Torben Andersen, CEO at Refour, and Ida Feltendahl Frimer, marketing manager at Refour, about how the RE-4 material could act as an alternative to a range of non-circular paper, plastic, and mixed-material packaging.
Transparency – the key to transitioning to a circular economy?
Founded in 2016, Refour's aims include "replacing all non-circular packaging", as well as "communicat[ing] truthfully and transparently, not just about the RE-4 material, but also about the issues and misconceptions we see within the packaging industry," explains Frimer. These misconceptions apparently include the idea that paper is a sustainable and renewable resource for food packaging, that plastic is the most problematic material when it comes to pollution and waste, and that sustainability is the more expensive option for companies and consumers.
As Firmer notes, a number of companies are making the switch to paper-based food packaging, often citing paper as a renewable resource with a lower carbon footprint than plastic. However, Frimer says that "paper or cardboard cannot protect our food without a plastic and/or aluminium coating (or other kinds of coating, which makes the final product a non-recyclable multi-material – in other words, waste."
Frimer references a recent example: the retailer Morrisons' decision to swap its own brand fresh milk products from HDPE bottles – a kerbside recyclable solution in the UK, with a recycling rate of 76% – to 'carbon neutral' Tetra Pak cartons, which are partially made from plant-based paperboard but contain a plastic coating. The move was met with controversy, with Jonathan Wragg, owner of CAP Environmental, noting that the Tetra Pak cartons can only be recycled at a select few facilities.
"Ultimately, the paper packaging is either downcycled or wasted entirely via incineration, landfill or even worse in our nature," Frimer explains. "This is where our waste problem lies. Not just with plastic packaging, but with all non-circular packaging."
Andersen adds: "The final product will still be a multi-material solution that isn't truly recyclable today. Not at all effective way to go about making sustainable choices long-term. And decisions like these are why consumers have a difficult time educating themselves to make the right choices – they rely on the large corporations to have done the necessary research."
Refour emphasizes the need to have an "honest conversation" about deforestation and paper food packaging. While companies often plant trees as an offsetting strategy, the company says that it will take too long for newly planted trees to absorb CO2, while there is a lack of land to continuously replant. "Many companies […] are treating trees as an infinite resource no matter how we use or dispose of them."
Despite initiatives such as the Forest Stewardship Council's (FSC) certification process and a COP26 pledge to halt and reverse deforestation by 2030, it is Refour's belief that paper-based food packaging is missing a key element: circularity.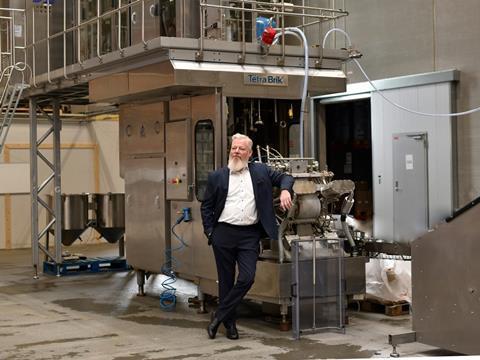 The multi-layer, mono-material solution
The solution Refour posits is its RE-4 material, "based on a unique material composition, which is primarily a mix of air and minerals" at a rate of around 50% and 20% respectively, "leaving only a small amount of PP used". This "offers a significant reduction in industrial raw material use, especially polymer," Frimer says.
Refour is also working on incorporating both recycled and contaminated municipal waste into RE-4 material when used for non-food grade products, such as secondary packaging: "With our formula and layer structure, we will be able to mix in municipal waste in middle layers for non-food packaging – giving waste value."
According to Frimer, the materials are "combined in a redefined foaming process" that offers "close to 40% lower carbon footprint (flat-rate average) compared to conventional equals". The process is also apparently less costly than other production methods, with air and minerals acting as cheaper filler materials: "This means we can eliminate the trade-off that corporations are often faced with – to be eco-conscious or cost-effective."
In addition, RE-4 "folds better than paper/cardboard" due to its non-memory feature, with the PP binding the ground minerals together to ensure flexibility so it doesn't snap when folded. It also features a "construction of up to 20 layers ranging from 350-micron thickness and upwards", which Frimer explains gives the material "unprecedented hermetic properties", such as air and moisture barriers and a light transmission rate as low as 0.4%.
Frimer says that this makes the RE-4 material suitable for a range of applications, "whether substituting cardboard, paper, plastic, aluminium, or a mix of these." This includes food and beverage cartons, to-go cups, takeaway containers, thermoformed trays, dairy cups, bag-in-box, snack tubes, and secondary packaging. Giving the example of a cereal box, the foldable and barrier properties of RE-4 also allow for the elimination of additional primary or secondary packaging, such as inner plastic bags, with features such as a re-closable lid.
RE-4 is produced by Refour as roll stock "equal to paper rolls, developed as a drop-in solution to offer an easy replacement for our customers." As Frimer explains, "it can run on current customer equipment with only a few minor alterations, this way likewise ensuring that the customer can uphold its current capacity".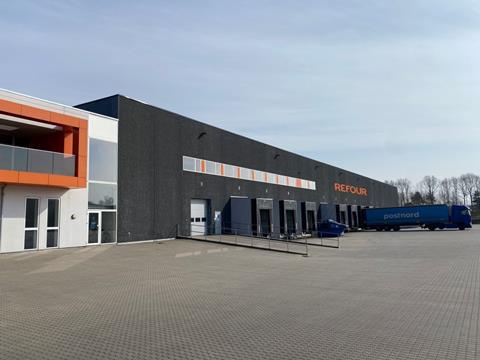 The four Rs: Replace, reduce, recycle, reuse
As part of Refour's four Rs strategy, replace and reduce is considered in relation to deforestation and the carbon footprints of existing paper packaging. Refour claims RE-4 would allow one of the leading suppliers of beverage cartons to save between 2-3 billion eq-kg in CO2 emissions and just over 36 million trees annually. Additionally, one of the biggest fast food restaurant chains could reportedly save 1.5-2.5 billion eq-kg in CO2 emissions and 43 million trees each year by using Refour's material.
"This just comes to show that jointly these two companies fell a staggering 84 million trees every year, just to produce food packaging, most of which cannot remain in the circular loop," Frimer explains. "Compensating for such a felling spree, and with it the increased CO2 emissions, before 2025 would take them replanting 2 billion trees, which is simply not realistic due to the lack of land.
"Therefore, we urge them, and many others, to rethink their packaging choice." This, according to Refour, requires companies to look for materials like RE-4 that offer replacements or reductions for resource- and energy-intensive elements.
As for recycling, Refour's RE-4 material has Institute cyclos-HTP certification of its recyclability and monomaterial status. Importantly, Frimer explains, "with RE-4, sorting the waste would be easy and effective for the consumer. Whether holding a food and beverage carton, a to-go cup, or a meat tray made from RE-4, all would simply go in one and the same recycling bin.
"The RE-4 material makes this a possibility, as it can both be sorted together with PP in the current recycling streams or be given its individual NIR code at standard sorting facilities." In addition, the minerals used as fillers in the RE-4 material "are not affected by extrusion and can be recycled indefinitely without losing their initial properties".
According to Frimer, RE-4 enables recycling to be "a shared responsibility between consumer and producer" in that Refour's drop-in solution for the producer leads to a simple recycling experience for the consumer. This "streamlined recovery and recycling process" could be especially beneficial to companies as Extended Producer Responsibility (EPR) schemes are implemented, which could require producers to cover the financial costs for treatment and disposal of any packaging they put on the market: "Now more than ever [there's] a clear economic incentive to favour circular products".
Refour is also considering the possibility of a 'clean' loop system that would mean RE-4 is sorted individually, separate from other sources of waste that could contaminate it during recycling, so it can be put indefinitely back into the same applications. Deposit return schemes (DRS) – which have already been trialled by companies like Starbucks and McDonald's – could help to establish this system in settings such as fast-food service.
In addition to recycling, RE-4's material properties reportedly mean it is strong enough for reuse and Refour actively encourages refill. Products made from the material can go in the dishwasher multiple times, according to the company, which would further support DRS in restaurants by providing a convenient washing solution.
"By truly going circular and using recyclate from open/closed-loop systems, the food and beverage industry could save up to 20% of their purchasing costs," Andersen explains. "Obtaining a 20% saving of a three-digit billion-dollar market would be really irresponsible not to pursue.
"That's our ambition, to provide a win for the environment and for the bottom lines by joining forces within the industry, working towards closing the loop ideally through deposit return schemes."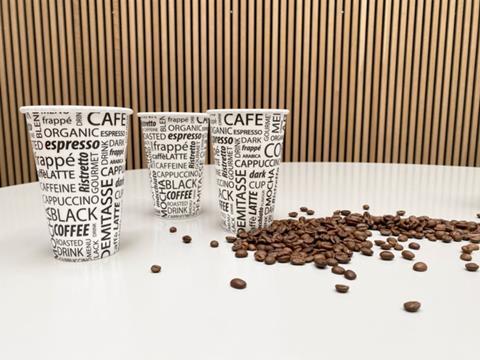 What's next?
"We have several really promising projects in the pipeline – all important steps to lead the packaging industry onto a more sustainable path," Frimer tells us.
"One of our top priorities, something we see as a must-take next step, is to use recyclate from a closed-loop in food-contact material protected by barrier layers. This is possible with the RE-4 material, as it consists of up to 20 layers while keeping a mono-structure. We are already in the process of running the first trial productions."
Adding to this, Refour also "want[s] to unfold the potential of using PP from 2nd Generation feedstock. We are all for cutting down on any form of fossil-based production. However, in our opinion, the solution cannot be at the expense of any resources of food such as sugarcanes."
Refour says it is ready for a complete market launch of its Roll Stock series for the end applications already mentioned, such as food and beverage cartons.