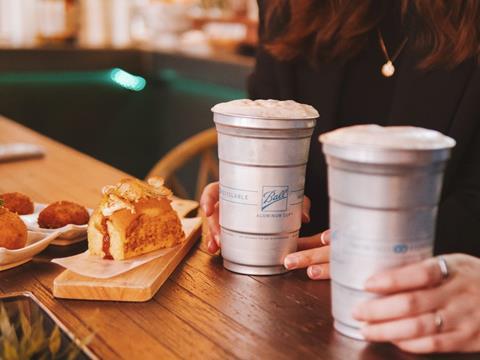 Ball Corporation, a leading global provider of infinitely recyclable aluminium beverage packaging, has announced that its Ball Aluminum Cups now consist of 90% recycled aluminium content as part of its ongoing partnership with the aluminium recycling company, Novelis Inc.
Ball says it designed the lightweight Ball Aluminum Cup to bring more circular beverage packaging to sports and entertainment venues, responding to consumer preference for sustainability. According to Ball, producing the cup with 90% recycled content significantly reduces its carbon footprint as using recycled aluminium uses 95% less energy than primary aluminium.
The company claims that aluminium is infinitely recyclable and able to retain its value throughout the recycling process, with 75% of all the aluminium ever produced reportedly remaining in use today. It adds that aluminium cans, cups, and bottles can be recycled and back in circulation within 60 days.
Dan Fisher, president and CEO of Ball Corporation, comments: "At Ball, we're committed to innovative solutions that contribute to creating a truly circular economy.
"Aluminum beverage packaging – including the Ball Aluminum Cup - has always been a sustainable alternative to plastic, and this update only further strengthens its sustainability attributes.
"We aim to deliver solutions that not only benefit our global customers but also benefit the planet, and we are excited to partner with Novelis to bring a Ball Aluminum Cup made with 90% recycled content to communities everywhere."
Steve Fisher, president and CEO of Novelis Inc., adds: "In line with Novelis' purpose of 'Shaping a Sustainable World Together,' we're focused on innovating alongside customers like Ball to increase the use of recycled content in their products.
"We're proud of our long-standing partnership with Ball and our joint efforts to increase the use of aluminium for beverage packaging.
"Aluminum beverage packages – bottles, cans and cups alike – are a perfect product for the circular economy as they can be recycled over and over without ever losing their material properties."
The aluminium cups are currently offered at venues including Ball Area in Denver, SoFi Stadium in Los Angeles, Hard Rock Stadium in Miami, State Farm Arena in Atlanta, Lucas Oil Stadium in Indianapolis, and Climate Pledge Arena in Seattle. At Ball Arena, the company says that its aluminium beverage packaging has helped to eliminate more than 350,000 single-use plastic cups and bottles, with the venue apparently being on track to eliminate more than 1 million SUP cups and bottles in 2022.
Additionally, the cups can be purchased for use at home, and are offered in foodservice and retail settings.
Ball Corporation also offers impact extruded aluminium bottles with re-closable threaded caps, which it says are infinitely recyclable and can be made into other aluminium products again and again.