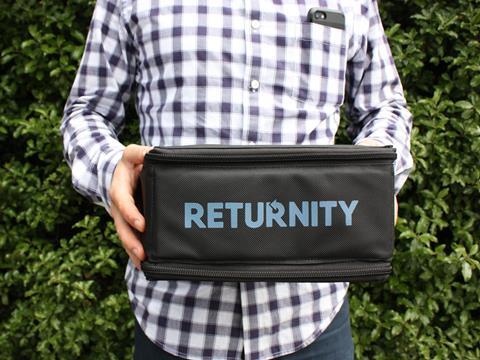 Over the past few years, Returnity has collaborated with Walmart, New Balance, and Estée Lauder to create tailored reusable packaging systems at scale. We caught up with the company's CEO, Mike Newman, to talk about collaboration, LCAs, and what more can be done to normalise reusable packaging solutions.
For readers of ours who might not be aware, could you give us a brief introduction to the work that Returnity does, and unpack the company's history?
Let's start with some industry context. The Pitney Bowes Parcel Shipping Index estimates parcel volume could reach 232B - 303B by 2026. In the U.S. alone, it's enough packaging to pave a mile-wide cardboard road from NYC to LA and back - three times over. Cardboard boxes are at record prices, and at the same time, recycling markets have seen major disruptions from the COVID pandemic.
Returnity was spun out of a reusable shopping bag business in 2017 to combat these statistics. The company replaces single-use shipping and delivery packaging by designing, manufacturing, and implementing reusable packaging and circular logistics systems.
Returnity's focused process identifies, pilots and refines high-return rate opportunities for clients which include Walmart, Estée Lauder, New Balance, Rent the Runway, and others. The average Returnity bag or box is used for 20 customer shipment/delivery cycles (40 individual trips total), with a 95.5% return rate. Our packaging solutions are now being used for over 500K shipments and deliveries a month.
Broadly speaking, how does Returnity's system work in practice? What inherent advantages and disadvantages does this system have over conventional models?
Returnity thinks of packaging reuse as a three-legged stool. You need low-cost returns, very high return rates - and the exact bag or box for the job. By integrating all three at once on a client-by-client basis, we are able to implement self-sustaining programs and avoid the "reuse fairy tales" that are being put in the marketplace today. Saying "no" has become our superpower.
That reality - that reuse is not a fit for many shipping and delivery packaging applications - is a clear disadvantage. But when done right, you delight customers, make significant reductions in your environmental footprint - and can be your CFO's best friend. Once our clients have built the foundation for reuse in the right way, they benefit for years.
We help our clients develop their reusable packaging system from start to finish. We create custom-designed reusable packaging to meet their exact needs and manage bag cleaning and stress-free system deployment. And lastly, we oversee end-of-life management so that no packages create more waste.
Have you got an accurate picture of the climate impact of your model compared with conventional ones? Have you undertaken any LCAs to prove this?
There have been multiple independent LCAs that consistently find that reusable packaging is better for the planet so long as it is reused "enough." Enough has generally been considered as being between seven and ten use cycles, though the 2021 Fashion for Good comprehensive analysis of reusable packaging highlights "a reusable package must fulfill more than four cycles before it presents a reduction in CO2 emissions…"
Four use cycles means a 75% return rate, which seems high! But in reality, if you can only keep your packaging in circulation 75% of the time, you are likely creating net-environmental harm versus single-use packaging. We target 20 use cycles for our packaging - which necessitates a 95%+ return rate.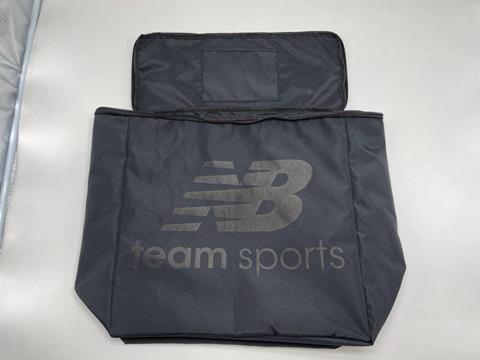 Returnity collaborated on a pilot project with Walmart a few years ago. Could you give us some more information on this collaboration and unpack the key lessons that were learned?
This opportunity came to us through the Beyond the Bag Initiative led by Closed Loop Partners and the Consortium to Reinvent the Retail Bag. It's a multi-year collaboration across retail sectors that aims to identify, test and implement innovative new design solutions that serve the function of today's single-use plastic retail bag, delivering ease and convenience for consumers while striving to lessen the environmental impact.
We collaborated with Walmart to integrate a reusable packaging system for their InHome grocery delivery team. That first pilot was a huge success, with both customers and associates giving overwhelmingly positive feedback and nearly 100% of the bags staying in circulation throughout the pilot.
The first key to that success was high-frequency engagement. Grocery delivery happens weekly, allowing for time to train customers and create new behaviours.
Another key was our amazing delivery packaging that discouraged consumers from using it for anything else. Our bags sped up the Walmart operation - but weren't effective for home use, making consumers less likely to keep them and therefore create more waste.
The final key was seamless integration. Leveraging the Walmart team to pick up bags from customers at home, we were able to dramatically reduce the cycle cost.
Did Walmart roll out the initiative more widely at scale after the pilot? Why/why not?
We're working with Walmart and Beyond the Bag stakeholders on the next phase that will allow us to take what we learned and implement it on a broader scale. We expect to be able to share more soon.
We've come across a number of returnable packaging innovations, but it's fair to say that, on the grand scheme of things, they have yet to become mainstream. In your view, what can be done to make systems like yours the norm?
We think both start-ups and retailers have overhyped the potential for reusable packaging before doing the work to understand why, when, and how they can scale to effectively compete with single-use. That instinct was understandable - the need is great, and how often can you get 75% of people to do anything positive for the planet consistently?
To become more mainstream, it's critical that we understand that reusable packaging is ultimately a systems challenge first, and a packaging challenge second. If your system doesn't address the operational and economic aspects of reuse, it won't matter how innovative a package is, because customers won't use it at any scale. Returnity solves this with our "Three P" framework, building integrated use models around:
Process: We enable low-cost, operationally efficient collection systems. Subsidized returns don't scale.
Participation: We create high-participate rate solutions, so that packaging can stay in circulation. Low return-rate programs create more waste.
Package: Returnity manufactures to the customer's exact size, content protection, and branding requirements, optimized for their system.
This grounded approach to reuse is succeeding, and consumers will start to see major changes take hold over the next few years as more and more retailers adopt this smarter approach.