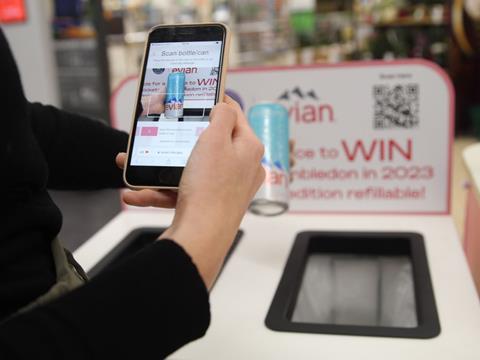 In a collaboration with Sainsbury's, evian is set to launch its 'Return4Reward' digital reward scheme in partnership with re-universe, hoping to encourage customers at Sainsbury's to recycle their empty drink containers.
The scheme expects Sainsbury's customers to bring their evian bottles and cans to be recycled in-store. Using a QR code at the designated return point and the barcode on the packaging, they can enter a draw to win tickets to the finals of Wimbledon 2023.
Originally introduced at the same event this summer, Return4Reward's continuation is said to adhere to Sainsbury's Plan For Better scheme, which hopes to "[provide] our customers and colleagues the opportunity to recycle more and minimise waste based on a circular economy approach of our supermarkets."
Meanwhile, evian is aiming to become a 100% circular brand by 2025, as well as exploring the ways in which digital technology can successfully engage consumers and encourage recycling.
Dillon McEvoy, head of marketing at evian, commented: "We are proud to work in collaboration with a retail partner that is aligned with our ethos and ambition of operating with a circular approach to plastic usage, as we know Sainsbury's shoppers are becoming increasingly eco-conscious in their shopping habits.
"This transformative collection system is just the first step in our journey with Sainsbury's, to help achieve our shared goal of operating as circular brands."
"As part of our ongoing commitment to make it easier for customers to recycle we're pleased to be partnering with evian to provide an incentive that we hope will help encourage shoppers at our Enfield branch to recycle their evian bottles," said Claire Hughes, director of Product and Innovation at Sainsbury's.
"We are dedicated to testing and trialling new initiatives in order to reduce, reuse, replace and recycle packaging whilst helping our customers do the same and hope this collaboration will help us to continue doing that, playing our part in helping to protect the planet for generations to come."
Tony McGurk, chairman of re-universe, added: "We saw strong visitor engagement during our digital recycling reward scheme with evian at Wimbledon earlier this year, so we anticipate that Sainsbury's shoppers will respond well to this new in-store set up, offering North Londoners a convenient accessible way to recycle."
A recent collaboration between Mars, Incorporated and Second Life resulted in the SWAP recycling app, with which customers could return complex and flexible packaging for dry or wet pet food in exchange for discounts on Mars brands such as Whiskas and Sheba.
Other financial rewards can be found in Deposit Return Schemes. However, Tesco's recent collaboration with Loop, which trialled refillable packaging with deposits that customers could redeem with reuse, found that some customers were disincentivised from participating in such schemes over fears that they would forget to return the containers.