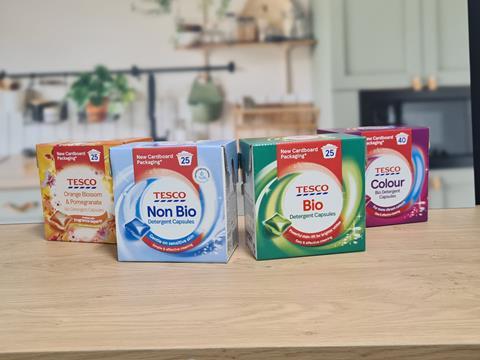 Last week, Tesco replaced the plastic tubs for its laundry detergent pods with recyclable cardboard packaging.
Tesco predicts that this move will remove 252 tonnes of plastic from its portfolio annually, and over four million pieces of plastic across eight lines.
The new box contains more than 90% recycled cardboard, and is FSC certified, but does still contain a thin plastic liner inside to protect the pods. When empty, the box can reportedly be put in the normal household recycling bin.
According to Tesco's figures, over 24 million people in the UK regularly buy laundry products, with more than 38% already opting for pods – compared to 28% choosing powder detergent and 34% preferring liquid or gel.
The retailer is also launching bigger packs of pods for families that offer even better value. The range will consist of three products, bio, non-bio and scented, priced at £5.50 for 40 washes.
Tesco's group quality director, Sarah Bradbury, said: "Customers are focused on getting great value right now, but we know that they still want to choose products that use less or no plastic in their packaging. This is one of many changes we're making to reduce unnecessary plastic from products right across our stores."
This move comes as part of Tesco's 4Rs packaging strategy, which aims to tackle the impact of plastic waste. In practice, the company says that this means it removes plastic where it can, reduces where it can't, and looks at ways to reuse more and recycle what's left.
Since the launch of the strategy in August 2019, Tesco claims to have removed 1.8bn pieces of plastic and reduced packaging by more than 10,000 tonnes. It says that fruit juices, crisps, and cheese are among many products that are all now being produced using less plastic.
Most recently, Tesco announced in August that it would remove the plastic wrap from its own-brand drinks, replacing it with a mix-and-match multi-buy promotion at the same price as a current multipack.
Its forays into packaging reduction are not, however, confined to plastics. This was seen last year in a trial that hoped to reduce packaging to its essential elements and cut down on cardboard waste by removing the outer cardboard packaging from toothpaste products.
Packaging Europe has asked for more information from Tesco on the effect of this most recent move in terms of carbon emissions and functionality. This article will be updated when we receive a response.