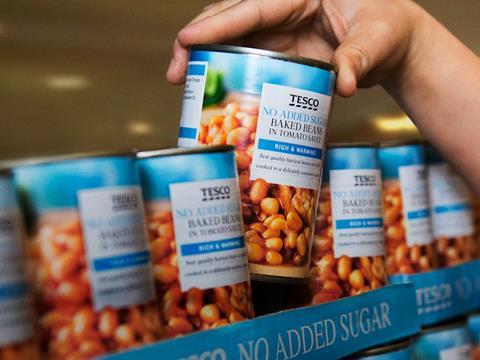 As part of its 4Rs (Remove, Reduce, Re-use, Recycle) packaging strategy, Tesco has reportedly removed more than one and a half billion pieces of plastic from its UK business, with 500 million pieces removed in the last 12 months.
Launched in August 2019, Tesco's 4Rs packaging strategy aims to remove plastic where it can, reduce where it can't, reuse more, and recycle what's left. "The 4Rs are issued B2B with suppliers as a simple principle, and to customers to signpost opportunities to use less packaging and recycle more," James Bull, head of packaging at Tesco, told Packaging Europe last month.
As part of the strategy, Tesco's suppliers are given a list of preferred materials that are easier to recycle with the stipulation that it has the right to no longer stock products with excessive packaging or hard to recycle materials. A traffic light system denotes which materials are preferred, with 'green' materials having the highest probability of being recycled while 'amber' materials are acceptable "for now" as their removal would have "larger negative impacts somewhere else in the chain", such as increasing food waste, according to Bull. 'Red' materials are ones that have readily available alternatives and are not recyclable in the UK; the retailer has pressed suppliers to remove all materials in this category and refused to stock new products that contain them.
Since the launch of the strategy, Tesco claims to have removed 75 million pieces of plastic used to wrap tinned multipacks annually, as well as 50 million pieces of plastic wrapping from cans of branded beers and ciders.
Other areas where the retailer has removed plastic include over 100 million additional lids from products such as wipes, creams, yoghurts, and desserts and 50 million pieces of plastic from greeting cards. Tesco adds that it has removed millions of plastic punnets from products such as peaches, plums, and tomatoes.
According to Tesco, the most recent annual savings also include removing more than 200 million bags from its Tesco.com deliveries and 14 million plastic chicken trays from whole chickens. In addition to the removal of 42 million plastic forks from prepared salads and rice bowls, as well as 48 million own-brand plastic straws, the retailer is offering the option of wooden and paper alternatives.
Overall, in the last 12 months, Tesco has identified and removed 500 million more pieces of unnecessary plastic.
Sarah Bradbury, quality director at Tesco, comments: "We all have a responsibility to take care of our planet and removing unnecessary plastic is an important way that Tesco can reduce its environmental impact.
"While we are proud of this achievement, we know we have more to do and our work to tackle the impact of plastic waste will continue in 2022 and beyond."
For the other Rs, Teso has partnered with Faerch on a closed-loop recycling system to retain secondary plastic packaging used to transport and display products within the food packaging industry. Tesco also enables customers to return soft plastic packaging to stores for recycling, with a reported recovery rate of 80% and a collaboration with Berry Global meaning 25 tonnes of soft plastic per month will be recycled into bin liners.
In James Bull's interview with Packaging Europe, he also noted that "reuse is the way to unlock the shackles of single-use". Tesco's main strategy to promote reuse is Loop, where consumers can purchase products from brands including Alberto Basalm, Bisto, Coca Cola, Heinz, Persil, Simple, and Tetley in containers that can be returned, cleaned, refilled, and reused.