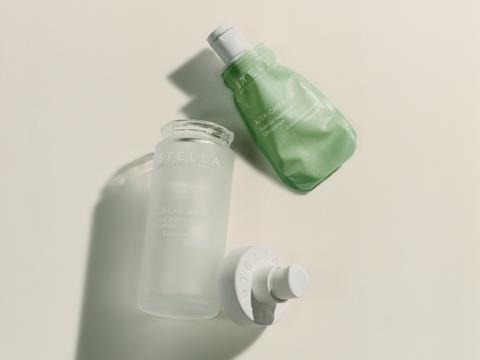 A collaboration between SABIC, Texen, Leygatech, STTP Emballage, and Stella McCartney Beauty has resulted in a series of refill containers for skin and eye care products, reportedly incorporating up to 90% mass-balanced certified renewable feedstock content.
Designed for use with STELLA Alter-Care Serum and Restore Cream, the containers feature three SABIC polyolefin resins with plant-based feedstock content. For the body of the containers, Leygatech supplies a film made from SABIC's LLDPE; these films are processed and printed by STTP Emballage.
Meanwhile, Texen moulds each container head from SABIC's 'impact-resistant' HDPE polyethylene material and injection-moulds flip-top closures from SABIC's PP polymer. The containers are expected to enter established polyolefin recycling streams at end-of-life, meaning that the PP and PE polymers can be recovered.
SABIC states that its certified renewable polymers contain polypropylene and polyethylene materials derived from second-generation renewable feedstock, which is apparently selected to avoid competition with both human food and animal feed and prevent any direct or indirect changes in the use of land. According to a cradle-to-gate lifecycle analysis, each kilogram of its bio-based resins reduces CO2 emissions by an average of 4kg compared to fossil-based alternatives.
The polymers also claim to cut fossil depletion by up to 80% and offer the same purity, quality, safety, and convenience as fossil-based applications. Their mass balance is validated by an independent third party according to ISCC PLUS standards.
The Stella McCartney Beauty containers are said to correspond with the company's vegan branding and hope to meet growing consumer demand for sustainability-minded packaging solutions. They have so far been introduced in the North American and UK markets and were officially launched and presented at interpack 2023.
"This innovation marks a significant step forward in transforming the packaging of cosmetics and skin care products to fully sustainable material alternatives," says Abdullah Al-Otaibi, general manager, ETP & Market Solutions at SABIC. "Moreover, it also demonstrates that our certified renewable polymers can facilitate the change-over by providing efficient drop-in solutions with no compromise in processability, purity, quality or convenience."
The polymers utilised in the containers form part of SABIC's TRUCIRCLE portfolio and services for circular solutions. The same can be said for the PP QRYSTAL copolymer, used by SABIC, Estiko Packaging Solutions, and Coldwater Prawns of Norway to produce an ISCC PLUS certified pouch for frozen prawns.
TUBEX has also developed recyclable, mono-material tubes for La bouche rouge's perfume refills. The solution is said to incorporate 100% recycled aluminium and 95% post-consumer recycled content.
Additionally, Molton Brown has produced a 100% aluminium refillable bottle for bath and shower gel products, while Fenton Packaging Solutions, Acopia, and The Friendly Chemical Co. are opening refill stations for Miniml's personal care products in a bid to reduce rigid personal care and household packaging.
If you liked this article, you might also enjoy:
McDonald's Director of Sustainability in Europe on the company's approach to packaging sustainability
McKinsey on whether or not on-pack sustainability claims affect consumer spending
Perspectives from industry-leading experts on the EU's Packaging and Packaging Waste Directive revisions
A deep dive into the most important packaging sustainability trends and solutions