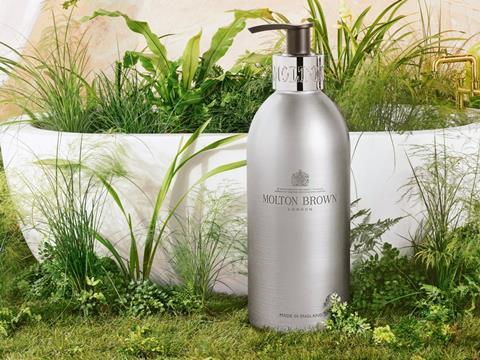 Molton Brown is launching its refillable, 'made-to-last' Bath & Shower Gel bottle collection in the hopes of enabling consumers to shrink their plastic footprints by 63%.
The new Infinite Bottle claims to be infinitely recyclable and, excluding its pump, made from 100% recycled aluminium. As such, it is said to provide a 95% reduction in energy use and lessen CO2 emissions by 83% in comparison with virgin aluminium.
Additionally, the outer carton and tag are both made of paper said to contain 40% recycled materials and 15% agro-industrial waste – specifically, upcycled by-products from the food and drinks industry. Its minimalist aesthetic is designed for ergonomic shaping and compatibility with any bathroom interior for an improved customer experience.
With the overall goal of combining luxury with circularity, the Infinite Bottle can apparently be paired with Molton Brown's 400ml Bath & Shower Gel Refill pouches to enable consumers to reduce their plastic footprints by 63% compared to the company's standard 300ml and 100ml bottles.
Furthermore, it is expected to contribute to the company's wider goal of developing a 50% reusable and refillable portfolio by 2030 – which, in turn, fit into the Zero Waste Mission and global ESG strategy of its parent company, Kao Corporation. The Kirei Lifestyle Plan aims to ensure that 100% of the corporation's products 'leave a full lifecycle environmental footprint' that is backed by science.
The Infinite Bottle will be applied to the Re-charge Black Pepper, Fiery Pink Pepper, and Coastal Cypress & Sea Fennel fragrances, which are cruelty-free and formulated using sustainably sourced, RSPO-certified palm oil derivatives, according to Molton Brown.
Refillable solutions for deodorant products have seen an uptake in recent months, from Dove's refillable and reusable solution aiming to reduce plastic waste to a cork-based deodorant cartridge that was recently fast-tracked by Lancaster University.
Meanwhile, Morrama has designed a dispenser solution for KANKAN's canned personal care products to cut down on materials, waste, and packaging weight and improve consumers experience.
If you liked this article, you might also enjoy:
McDonald's Director of Sustainability in Europe on the company's approach to packaging sustainability
McKinsey on whether or not on-pack sustainability claims affect consumer spending
Perspectives from industry-leading experts on the EU's Packaging and Packaging Waste Directive revisions
A deep dive into the most important packaging sustainability trends and solutions