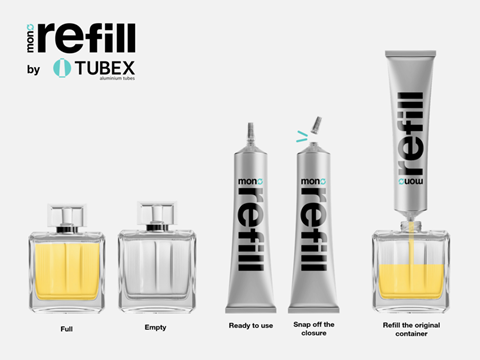 TUBEX is packaging La bouche rouge's perfume refills in a recyclable, mono-material tube that apparently incorporates 100% recycled aluminium and 95% post-consumer recycled content.
Reportedly, the MonoRefill is made from a unique alloy containing recycled aluminium packaging and is manufactured in a single step using one aluminium slug for the entire tube. As such, it is made from a single material and does not require a plastic cap – features that expect to facilitate easy recycling, lower emissions, reduce waste, and preserve valuable packaging materials in a closed loop.
To open the pack, consumers can snap off the aluminium closure and empty the product into the original container. The tube is designed to allow easy pouring, prevent both spillages and mess, and ensure that all of the product is used. When it is empty, the MonoRefill's closure can be flipped over and inserted back into the tube so that all the aluminium components are recycled together.
According to TUBEX, aluminium refill packs offer high barrier properties and can be infinitely recycled, with manufacturers able to melt down damaged material and reform it without impacting its quality. It also claims that the material has a 69% recycling rate in Europe, and its recycling process is thought to save 95% of the energy needed to produce primary aluminium.
"We designed the MonoRefill to provide brands with a sustainable solution for refilling complex original packaging, or as an alternative to existing refills made of plastics or other materials that are hard to recycle," says Thierry Bitout, Group CEO at TUBEX. "Most of the refill solutions available on the market are not circular, and many are not even recyclable.
"We have seen a lot of interest for our solution in a variety of sectors, including beauty and personal care, and home care. The MonoRefill can be used to refill perfume bottles and different types of jars and small bottles. It can also carry concentrates to refill bigger bottles or dispensers. We believe many product categories can benefit from our solution."
Molton Brown announced the release of its refillable aluminium bottle for bath and shower gel products earlier this month. Excluding its pump, the pack is said to be made from 100% recycled aluminium and aims to combine luxury with circularity.
On the other hand, members of Aluminium Deutschland's Tubes, Cans and Impact Extruded Parts Division recently expressed concern surrounding the accessibility of post-consumer recycled materials in the packaging sector and the resultant cost of companies' transitions into more sustainable packaging solutions. They suggested that manufacturers continue to design their packaging for recycling streams and called upon policymakers to more thoroughly incentivise both recycling and investments into technologies and supply logistics.
If you liked this article, you might also enjoy:
McDonald's Director of Sustainability in Europe on the company's approach to packaging sustainability
McKinsey on whether or not on-pack sustainability claims affect consumer spending
Perspectives from industry-leading experts on the EU's Packaging and Packaging Waste Directive revisions
A deep dive into the most important packaging sustainability trends and solutions