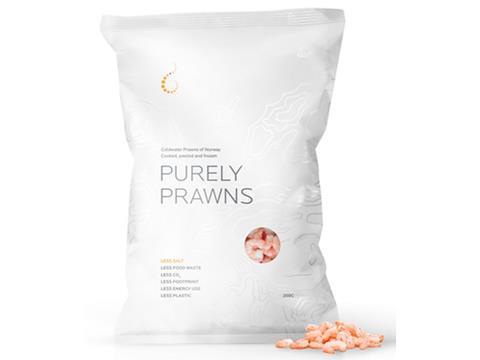 SABIC, Estiko Packaging Solutions, and Coldwater Prawns of Norway have worked together to implement a reported 60% ocean-bound plastic waste into a new, ISCC PLUS certified pouch for frozen prawns – aspiring to keep plastics out of the environment and in a circular material stream.
To produce the pouch, Estiko Packaging Solutions has created a multi-layer film from a random polymer grade of SABIC's PP QRYSTAL copolymer. SABIC converts ocean-bound plastic (OBP) waste into an alternative feedstock for use in advanced recycling, with which it produces certified circular polymers to be returned into the material stream. These polymers form part of its TRUCIRCLE portfolio and services for circular solutions.
The resultant packaging, set to be applied to Coldwater Prawns of Norway's frozen prawns, is said to offer an OBP content of around 60%. It is mass balance certified under the ISCC PLUS chain of custody, meaning that its material flow is tracked to each pouch.
Estiko Packaging Solutions can then claim an equivalent amount of flexible film as certified circular for every ton of certified circular polymer used in the production of the PP resin. In turn, Coldwater Prawns of Norway can display its sustainability credentials on the packaging for the benefit of consumers.
It is also said that the pouch complies with the UN's Sustainable Development Goal #14 for 'Life Below Water' and aligns with the sustainable intent of Coldwater Prawns of Norway's harvesting practices, in which cold water prawns are caught from the Barents Sea as opposed to farming king prawns.
"Recovering OBP waste that could otherwise end up in our waterways or oceans is a complex challenge and requires close collaboration with dedicated value chain partners," says Abdullah Al-Otaibi, general manager of Engineering Thermoplastics & Market Solutions for Petrochemicals at SABIC. "We are proud to present yet another successful joint project that demonstrates a feasible solution to contribute to this global issue with a frozen foods packaging pouch that capitalises on the sustainable benefits of our TRUCIRCLE programme.
"With its high OBP content, this application helps all players reduce their carbon footprint and support the circularity of flexible packaging."
Taavi Tikk, R&D manager at Estiko Packaging Solutions, adds: "Sustainability is close to our heart. That's why we at Estiko base all our activities on the aim of preserving a liveable environment for future generations and provide responsible packaging solutions for our customers with no compromises in quality, food safety or convenience.
"In comprehensive trials on our existing film lines, we found that SABIC's random PP material with OBP provided exactly the right drop-in-replacement to meet the requirements of Coldwater Prawns of Norway AS, including excellent puncture and tear resistance as well as high transparency for the clear part of the pouch that lets consumers see the packaged prawns."
"We are passionate about prawns, purity and the planet, and when it comes to the welfare of the planet, our motto is that 'it can't get pure enough'," concludes Hege Furnes, CCO at Coldwater Prawns of Norway. "The material choice for our new pouches meets with our care for the ecosystem on which our business relies.
"By using an OBP based packaging product, we are making an active contribution to prevent abandoned plastic litter from polluting the sea. In addition, the pouches are fully recyclable in existing material recovery systems for flexible packaging."
The pouch was officially launched and presented at interpack 2023.
Keep Sea Blue has recently partnered with Tesco to implement recycled, ocean-bound plastics into its fresh fish packaging – a move aiming to keep 500 tonnes of discarded plastic out of the sea.
Meanwhile, Prevented Ocean Plastic and the University of Georgia are working on a research project that aspires to result in a new tool with which stakeholders and community leaders can combat plastic waste in their local environments and identify its causes.
If you liked this article, you might also enjoy:
McDonald's Director of Sustainability in Europe on the company's approach to packaging sustainability
McKinsey on whether or not on-pack sustainability claims affect consumer spending
Perspectives from industry-leading experts on the EU's Packaging and Packaging Waste Directive revisions
A deep dive into the most important packaging sustainability trends and solutions