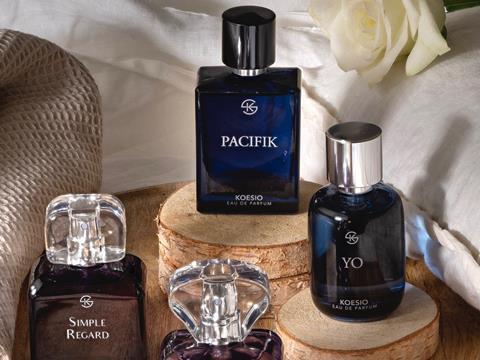 Coverpla has provided its Koesio Parfums brand with refillable versions of its perfume bottles, an upgrade in its local positioning, and a personalized ready-to-go offer.
Three 50ml bottles from Coverpla's catalogue – Vertigo, Ulysse, and Venus – have been selected by the brand. These were developed by glassmaker Bormioli Luigi with a range of collar types.
The bottles have been paired with the Top Passion, Galet, and Gény designs, respectively. Top Passion is clad in aluminium and has been chosen in black and shiny silver, while Galet and Gény are both injected in Surlyn, an ionomer resin created by DuPont.
Coverpla has also provided matching pumps and pump covers, with a range of lacquers selected to personalize the packs.
Only the Vertigo design was originally available in a refillable version. Bormioli Luigi has since 'ramped up' its industrial production and provided refillable alternatives to help the brand achieve its target of providing a 100% refillable collection.
Koesio has also grouped its twenty fragrances into scents for men, women, young men, and young women, with Eric Moraldo, founder of Koesio, elaborating that "during adolescence, the personality is defined, moods are fluctuating," and "tastes change". Therefore, the company has aligned its EdPs in line with redefined fragrance families like marine, foody, musk, and powdery.
In what is designed to be a personalized experience, a questionnaire evokes life situations to help the company recommend the perfect fragrance to a consumer based on their olfactory profile, thus aiming to differentiate its positioning.
"With Coverpla, we poured all of our passion and expertise into this launch," says Moraldo. "It was an amazing collaboration that I hope will be long-lasting. Thank you for this technical, industrial and human partnership!"
Coverpla's glass Gala bottle was recently updated with a refillable screw neck design, updating the fixed neck design used to package Essential Parfums' 'sustainable' fragrance line.
SABIC, Texen, Leygatech, STTP Emballage, and Stella McCartney Beauty have also joined forces to unveil a series of refill containers for skin and eye care products that claim to incorporate up to 90% mass-balanced certified renewable feedstock content.
If you liked this article, you might also enjoy:
The L'Oréal approach to packaging sustainability
What steps is Apple taking to make its packaging more sustainable?
How did Brazil achieve its 100% aluminium can recycling rate – and can it be replicated in the EU?
Experts have their say on the EU's Packaging and Packaging Waste Directive revisions