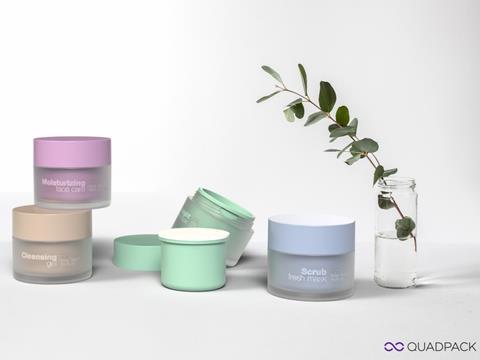 Quadpack has announced its New Regula Refill Jar – the reportedly refillable, recyclable, and mono-material jar for beauty products, designed for easy use by consumers.
Able to contain 50ml worth of product, the jar's thick outer wall is said to be made of PET, yet is designed to resemble glass, offering a premium aesthetic for high-end products. The inner jar is made of PP and is easily thermosealable, according to the company – thus making it suitable to be refilled with beauty products such as skincare formulas.
With the double-walled cap also made of PP, it is claimed that the entire jar is recyclable. Additionally, every component can be decorated 'using various techniques', Quadpack claims.
A gap has been implemented into the outer jar to enable easy opening and closing, with a 'click' sound signalling the point at which the jar is closed, according to the company.
Fasten released a similar design – a 'fully recyclable', mono-material rPP jar with an ultra-light, thermoformed refill cup – in July. It was reported that the design could save up to 80% on material usage in comparison to standard 50ml jars.
Izzy also launched its own refillable designs in February: stainless-steel tubes for mascara and lip butter. The company claimed that the tubes can be cleaned and refilled over 10,000 times, a feature that hopes to negate the need for the packaging to be thrown away.
Cosmetics are not the only products to have their packaging redesigned for refillable purposes. Dental care brand Happier Beauty previously developed a 'world first' refillable toothpaste dispenser with its £150,000 Smart Innovate grant.