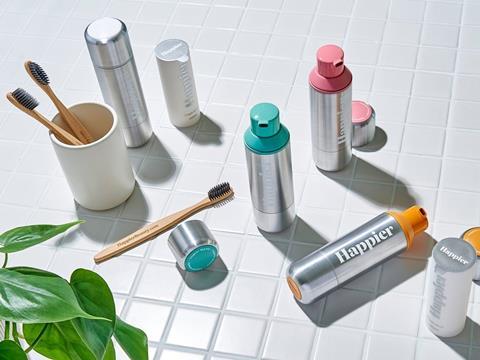 British dental care brand Happier Beauty recently announced that it would be using its £150,000 Smart Innovate grant to develop a refillable toothpaste dispenser with biodegradable refill capsules – reportedly a world-first.
We spoke with Faye Wilson, founder of Happier Beauty, to find out more about the brand's plans for the refillable expansion to its portfolio of sustainable dental care products.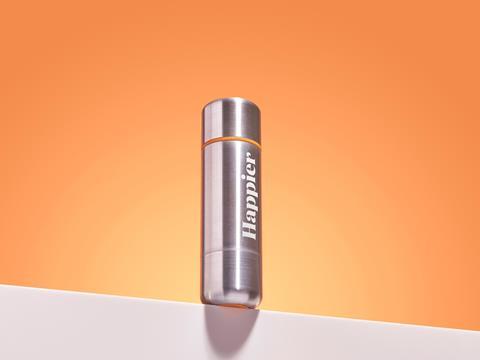 A fresh take on the tube
First launched in September 2019, Happier Beauty already offers its own range of Happier Toothpaste, Bamboo Toothbrushes, and a Squeeze Key for getting the most out of each tube.
The brand's toothpaste range is sold in aluminium tubes, which are considered easier to recycle in the UK than the HDPE packaging typically used by mainstream brands and do not lose quality through multiple recycling cycles like some plastics. Meanwhile, the caps are made with white plastic – also designed with ease of recycling in mind – and can be placed in kerbside recycling streams.
"I started the business because I felt that modern consumers wanted dental care options which were sustainable," explains Wilson. She cites an estimate that 1.5 billion single-use plastic toothpaste tubes go into landfill each year.
For Wilson and Happier Beauty, the obvious next step was refills – a trend many beauty and personal care brands are increasingly turning to as consumers seek flexibility, personalisation, and sustainability.
"Refills are becoming more popular across food and beauty so why not dental care?" Wilson muses. "Toothpaste is a product we all use twice a day but packaging innovation in this category has been pretty slow up until now."
Now, Wilson is in the process of developing what she says is "the world's first refillable toothpaste dispenser with biodegradable refill capsules. It will be made of aluminium and 50% recycled plastic", giving it a similar look to Happier Beauty's existing toothpaste products, but with a pump that marks it as refillable.
According to Wilson, "the dispenser will come in 4 colours: mint, pink, peach and white." This fits with the simple but sleek design of the rest of the Happier Beauty range, with Wilson also being mindful of the ways other dental care brands' packaging can overload consumers with information.
"I also felt mainstream toothpastes can be opaque with their ingredients list," Wilson explains. "You need a chemistry degree to understand most toothpaste ingredient lists, and yet we put toothpaste in our mouths twice a day." Happier Beauty's scaled-back packaging design appears to reflect the transparency of the ingredients, and of the brand itself.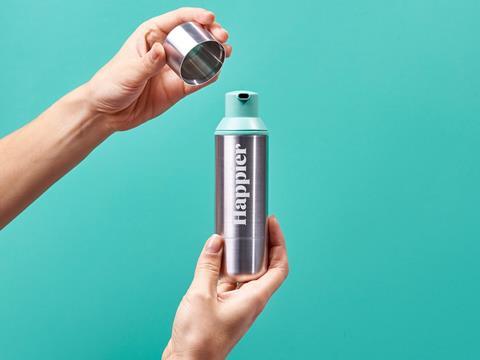 The subscription strategy
As for the refill capsules, these will "be sent out to customers as a subscription, along with the reusable dispenser in their first subscription". Other Happier Beauty products are already available for purchase through a subscription that is offered every two or three months, rather than monthly, to reduce the environmental impacts of transit.
"As with our current Happier Beauty subscriptions, customers will be completely in control of their subscription and can easily change, pause or cancel it," Wilson says of the refillable toothpaste range. "Customers will be able to set up a Happier Beauty subscription and we'll send them the refills according to their chosen frequency, along with the dispenser in the first bundle.
"Our subscription service means they will never have to think about buying toothpaste again."
The popularity of refill and subscription services is interconnected. Wilson notes that, much like previous products from Happier Beauty, the refillable toothpaste and subscription model are garnering positive reactions: "It's not often people get excited about toothpaste, so I knew consumers liked the product."
Indeed, consumers have been key in the development of the refillable toothpaste – again, in a bid to combine the aesthetics, convenience, and sustainable credentials associated with the success of refill and subscription services.
"Our customers are passionate about making a difference to our planet," Wilson adds. "I spoke to some of them during the development of this dispenser, and they fed in their thoughts, ensuring the refills were easy to biodegrade, easy to use, and that the dispenser looked good enough to display in their bathrooms."
Happier Beauty's focus on sustainability doesn't end with the primary packaging. While e-commerce can sometimes be associated with additional packaging that might not be required for an item purchased in-store, Happier Beauty is "constantly review[ing]" its postal packaging to reduce waste and ensure its products are a sustainable alternative. Therefore, Happier Beauty products are shipped in padded, fully recyclable, and FSC-certified paper envelopes with tissue used to protect the aluminium tubes during transit and address stickers made from 100% recycled and recyclable paper stock.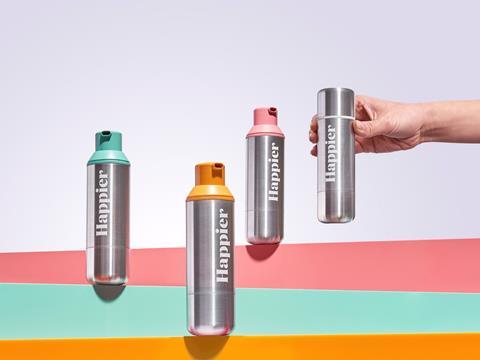 What's next?
"We will always keep striving to make our products as sustainable, planet friendly and natural as possible," Wilson says.
Happier Beauty is trialling a lid return scheme, where consumers can send the lids from toothpaste tubes back to the company, which will wash and sterilise them so they can be re-used for future orders. This is free for consumers in the UK, who can use the Royal Mail Freepost service to send the lids back to Happier Beauty's headquarters.
In addition, Happier Beauty is a Pending B Corp – a way for smaller companies and start-ups to commit to the B Corp ethos. On Happier Beauty's website, the brand notes this as the beginning of a "journey to full B Corp membership" in the future.
Finally, the refillable dispenser itself with be available to purchase in Spring 2022.