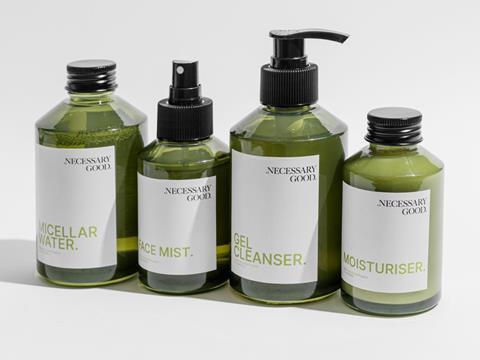 Croxsons has developed primary glass packaging for refillable skincare essentials brand Necessary Good's essential skincare products as a contribution to waste reduction efforts in the beauty industry.
Two sizes of slope shoulder cylindrical glass bottles – one 100ml variant and a 200ml alternative – sprayed in a leaf green pantone have been produced by Croxsons' lifestyle, beauty, health and wellness division. Compatible closures include screw atomisers, overcap dip tubes, lotion pumps, and screw caps.
Assel Kapparova, founder and CEO of Necessary Good, hopes that glass will bring durability, recyclability, and a pleasing aesthetic to the brand's face mist, face wash, moisturiser, and micellar water packaging. These will serve as refillable containers, with customers encouraged to order refill pouches and pour them into the glass.
The pouches are said to be bio-based, compostable, and biodegradable with the aim of cutting down on packaging waste in the beauty industry.
"In terms of working with Croxsons, I have nothing but great things to say," said Kapparova. "They were so responsive, accommodating, and efficient throughout the project!
"When I showed them my packaging brief they helped me find the closest bottle match without having to consider a custom design – the match is uncanny. A big thanks to Croxsons for their guidance and the final glass products!"
"We are delighted that Assel has the right glass packaging to develop the Necessary Good skincare brand," continued Tim Croxson, CEO at Croxsons. "We believe that the end result is both unique and modern, providing a visually appealing and memorable look.
"We wholeheartedly embrace Necessary Good's ethos, supporting their vision for a greener future. The company extends its best wishes to Necessary Good, hoping for continued success in their sustainable journey."
Quadpack's New Regula Refill Jar for beauty products is designed to resemble glass for a premium aesthetic, but provides a mono-material PET outer wall and PP inner jar designed for easy recycling.
Morrama has also sought to bring refillables to the personal care industry, from a refillable packaging range for makeup and more to a dispenser solution for KANKAN's canned products.
If you liked this article, you might also enjoy:
The Lidl approach to packaging sustainability
How did Brazil achieve its 100% aluminium can recycling rate – and can it be replicated in the EU?
Experts have their say on the EU's Packaging and Packaging Waste Directive revisions
A deep dive into the most important packaging sustainability trends and solutions