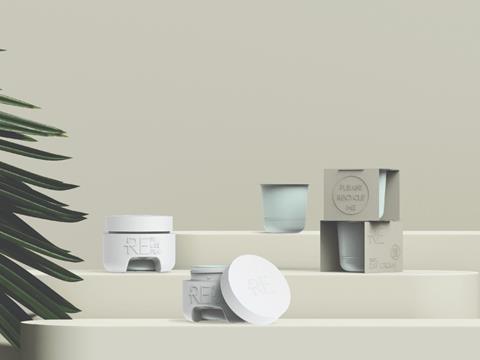 Fasten has introduced the REfill REuse REpeat cosmetic jar system made from 100% recycled polypropylene (PP) and featuring an ultra-light, thermoformed refill cup.
Fasten, which is an IBG (Innovative Beauty Group) company, says that the mono-material rPP jar is fully recyclable. The company adds that the concept replaces ink with debossing, eliminating the use of glue.
According to Fasten, the REfill REuse REpeat concept comprises a lightweight, open outer jar base in conjunction with an ultra-light, thermoformed refill cup that can be inserted inside the base with one click. To distinguish between cosmetic creams, different colours can be used for the refill cup.
The company claims that the open structure of the jar base shows consumers what cream refill they are using visually while reducing the material needed for the jar. The reusable jar design can reportedly save up to 80% on material usage compared to conventional 50ml jars.
In addition, Fasten says it designed the jar to be 70% lighter than comparable standard cream jars with the refill units also made to be stackable. The company claims that this results in increased space consolidation and a substantial reduction in shipping weight, which could help to reduce the CO2 footprint across the supply chain.
The company adds that the jar is suitable for cream skincare and makeup products, and is available in a standard 50ml cream jar size.
Ilja Zutt, managing director of Fasten, comments: "At Fasten we pride ourselves on consistently bringing forward-thinking innovations to our customers with an unwavering focus on reducing environmental impact.
"Our REfill REuse REpeat jar is just that – a unique packaging concept created to satisfy all aspects of sustainability from its reduced material usage, refillable design and full recyclability."
Fasten recently unveiled the Recharge Luxury Refill solution for personal care applications made entirely from PP and PET, with a 100% PP cosmetic pump.