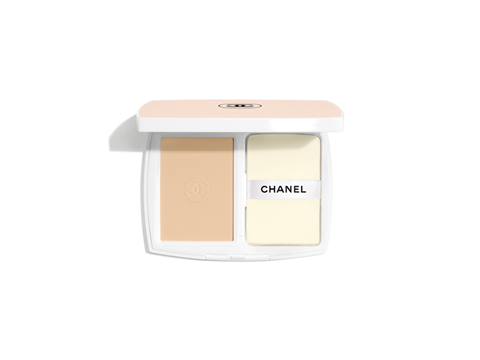 Texen is working with Chanel to roll out refillable PET compacts for its Le Blanc and Les Beiges foundations, designed for premium quality and adherence to the fashion house's sustainability targets.
Previously made from ABS, the Le Blanc pack is now entirely made from PET except for the pin and mirror. Meanwhile, Texen's XXL compact for Les Beiges – reportedly bringing challenges to the table due to its large size and thin, injected rPET walls – has also transitioned into PET to improve colour stability and match the compact's pale colour.
Injecting PET is a complex process, Texen explains, and required multiple test runs, especially for the lid. The edges were injected using the Besst Transform induction technique, which is based on Roctool's engineering; this is said to result in zero surface defects and 'perfect' aesthetics, as it allows for the sublimation of material.
Hot stamping is used to decorate the centre of the lid with the brand's logo, with each part of the compact injected and decorated in line with a high-solid varnish. This is especially true for the base of the compact, which is produced on the Picoligne production line at Texen's CMSI site.
The decoration claims to contribute to a flexible and safeguarded production process by benefitting the limitation of transport, reactivity on quality, reduction of stocks and lead times, and productivity.
Each pack is assembled on the SMART compact production line, which also claims to offer a "zero defect" inspection module. A pin used to join the lid and hinge is clipped into the well, which is said to enable consumers to easily replace the product with a new refill. This pin is also compatible with the compact material's mechanical properties, Texen says.
Its work with Chanel draws upon previous compact designs with the intention of maintaining the quality expected of a luxury brand while pursuing a more sustainable solution. These developments expect to benefit Chanel's pursuit of eco-design and fall in line with changes in European legislation surrounding cosmetic materials.
Previously, Quadpack added the refillable Idol Woodacity Solo Twist Compact – featuring wooden casing and a twist system thought to increase accessibility for both left- and right-handed consumers – to its Woodacity range.
It also unveiled its New Regula Refill Jar, which claims to be refillable, recyclable, and mono-material.
Maya, Morrama and PPK's refillable beauty packaging range, intends to tackle excessive waste in makeup and personal care packaging.
If you liked this article, you might also enjoy:
The Lidl approach to packaging sustainability
How did Brazil achieve its 100% aluminium can recycling rate – and can it be replicated in the EU?
Experts have their say on the EU's Packaging and Packaging Waste Directive revisions
A deep dive into the most important packaging sustainability trends and solution