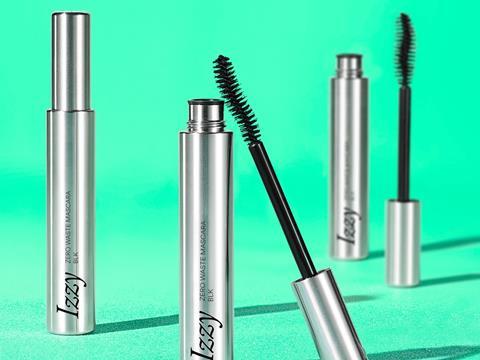 The US-based cosmetics brand Izzy offers products in a refillable stainless-steel tube that can be returned, cleaned, and reused as part of the company's aim to foster a closed-loop model for beauty products.
We spoke with Shannon Goldberg, founder of Izzy, about the importance of refillable options in a holistic sustainability strategy.
Mascara as a refill model
Founded with the intent to offer consumers zero waste and carbon neutral beauty products, Izzy's portfolio features two products, Zero Waste Mascara BLK Zero Waste Glossy Lip Butter, which are certified as carbon neutral in accordance with The CarbonNeutral Protocol and designed specifically with the refill model in mind.
"Our medical-grade, stainless-steel tubes are designed to be cleaned and refilled over 10,000 times, so you literally never have to throw them away," Goldberg explains of the mascara and lip butter's primary packaging.
For Izzy's mascara product, "all purchase options come with a 90-day supply of mascara," which can be supplemented by refills added to a one-time purchase or available via subscription.
After consumers use the supply of mascara, Izzy's packaging comes back into play. The mascara "comes in a Zero Waste Reusable Shipper with no outer packaging", according to Goldberg, with a scannable QR code that takes customers to Izzy's website, showing them "information about our mascara, membership and zero waste policy". The shipper is also reusable, with consumers expected to use it to return their empty mascara tube to the company for cleaning.
"Approximately 90 days after your purchase, we'll email you a reminder to send your empty Izzy back in your reusable shipper," Goldberg adds. "Members receive a sterilized and refilled mascara every 90 days." Izzy's Glossy Lip Butter follows the same purchase and refill processes.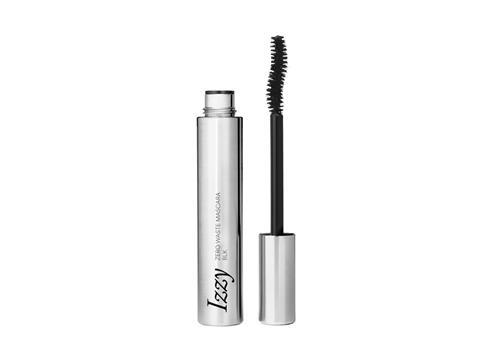 Reimagining sustainability with reuse
According to Goldberg, Izzy's products offer reduced environmental impacts at various stages of production, use, and reuse: "Izzy's holistic approach to product development is rooted in our closed loop supply chain, carbon neutrality, clean performance-driven ingredients and material reduction."
"All of our manufacturing takes place within a 400-mile radius, which means that our carbon emissions from transportation alone are exponentially lower than […] other beauty brand[s]."
Goldberg adds, "Our products contain 94% less plastic than the leading brands." While some of the product packaging does use plastic, this is apparently reground and recycled at Izzy's processing facility.
When it comes to the potential of reusables, some have suggested that the cleaning process – which can be water and energy intensive, and involve detergents that could have harmful environmental impacts – undermines its sustainability claims. This is a concern Izzy appears to have addressed, with Goldberg noting that "the water from our patent-pending antibacterial cleansing process is reused, rather than dumped into the ocean".
Overall, Goldberg states that Izzy's mascara "has a 78% smaller carbon footprint after 25 refills. The more our mascaras are reused, the smaller our relative carbon footprint becomes over time.
"The idea for Izzy is pretty simple: Produce components once and get endless refills from them. All products are meant to be washed and refilled more than 10,000 times, meaning they should be around for the next 2500 years if customers respect the closed-loop process."
In addition, Goldberg wants Izzy's refill model to inspire over beauty brands to consider areas of their own operations where waste could be minimised or eliminated: "Refills are the answer to ending plastic waste, so I truly hope Izzy inspires and motivates the beauty industry to follow suit.
"This year alone, I've seen a tonne of refill brands come to market, and I presume this trend will continue to grow and take shape."
Indeed, Izzy joins Happier Beauty, which will launch its refillable toothpaste dispenser this year, and P&G Beauty's aluminium bottle and refill pouch solution as just some of the brands seeking to make the personal care segment more sustainable.
"It's really about reimagining the traditional launch process and pivoting whenever possible to be as sustainable as possible," Goldberg says.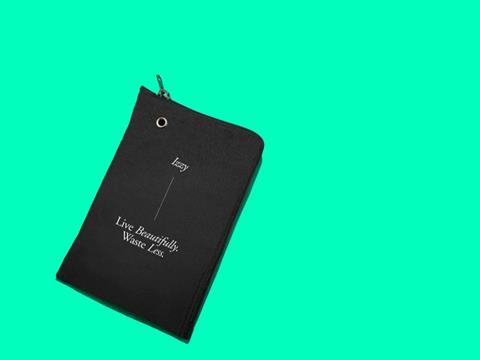 Closing the loop with consumer engagement
Convenience is key to the success of refill schemes, which require consumers to take action once they have used a product in order to maintain the cycle of reuse. "Izzy is meant to be easy," Goldberg tells us. "We want our customers to feel like they're doing their sustainable good deed of the day without doing any work at all."
One way to create this ease of use for consumers is the subscription model, which is increasingly popular for refillable products mainly purchased through e-commerce streams. For Izzy, this means "once the customer subscribes to our membership, we take care of the rest." The consumer does not need to travel to a site with specialised facilities to return the container; it can be returned via post, in the same shipper as it arrived in.
"All they have to do is enjoy their product and send it back 90 days later. Izzy is automated to help save time based on a process our customers can trust."
To incentivise consumers to engage with the refill model, a subscription is cheaper over time than a one-off purchase. A $30 restocking fee is also applied to dissuade consumers from discarding empty mascara tubes or the reusable shipper.
Additionally, Izzy engages consumers with the refill model by emphasising good practice when it comes to cosmetics in general. Most experts recommend replacing beauty products like mascara every three months to prevent the build-up of bacteria and microbes, as well as to avoid a drop in product efficacy. Izzy's subscription model could offer consumers a convenient way to keep their beauty products safe and effective, with the secondary effect of further encouraging the return of empty containers.
What's next?
According to Goldberg, "Izzy components are meant to act like Lego blocks" – a consideration the company intends to take forward into any future expansions to its portfolio.
For example, "our caps will ultimately fit on all cosmetic tubes for future launches, but the tubes themselves will change in diameter and length. Currently, we have 3 tube shapes that can satisfy multiple product types."
Izzy's goal is to continue with and build on aspects of the model that already seem to be working well: "Instead of dreaming up a new package every time, we aim to reuse as much as we can before creating a new component. The idea here is to slow down and really think sustainably."
"Ultimately, our plan is to create a super pared-down minimalistic line of beauty essentials that people feel good subscribing to," Goldberg concludes.