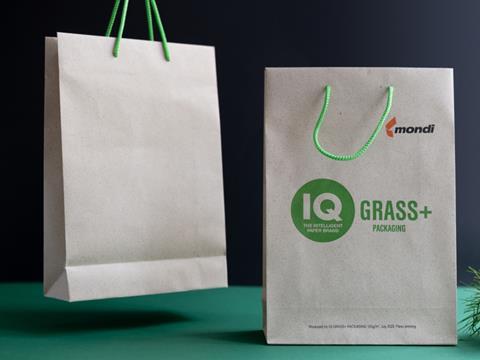 Mondi is expanding its IQ GRASS + PACKAGING range – apparently made with up to 30% grass fibre and 70% certified fresh fibre pulp – with a wider choice of grammages in a bid to bring sustainability-minded box, liner, and finishing solutions to the luxury goods market.
IQ GRASS + PACKAGING aspires to meet increasing interest in the sensory experience of unpacking a product, particularly in the luxury packaging sector. Rough surfaces with a natural appearance 'imply an impression of quality, craftmanship and sustainability', Mondi states.
It adds that grass is a fast-growing plant with high availability across the world. Combining it with fresh fibre pulp, reportedly sourced from sustainably managed forests, the range claims to offer a 'unique feel and natural look'.
Subsequently, the papers are now available in grammages of 80 g/m², 200 g/m², and 350 g/m², adding to the pre-existing grammages of 95 g/m² and 120 g/m².
High strength and runnability for printing and converting are amongst the reported benefits of IQ GRASS + PACKAGING. The individual grain and fibre optic of the paper is said to bring an individual aesthetic and shade to each pack, as well as a premium feel.
The range is both FSC and PEFC certified and Cradle to Cradle Certified at the bronze level. It complies with ISO standards 14001 and 9001 and does not contain chlorine or heavy metals; CO2-neutral options are also available, Mondi claims.
Flexographic and offset printing technology are both applicable to every grammage in the range, the company continues, with the pattern of the grass fibres remaining visible through the print. Colour brilliance can be increased by pre-printing the paper in white and applying branding on top.
Examples of the paper's use include boutique carrier bags, liners for corrugated and solid board, and promotional cards. Mondi suggests that the 80 g/m² grammage is suitable for use as wrapping paper or liner for rigid boxes, while all grammages, including the 350 g/m² option, can apparently be folded and processed to meet customers' standards.
The high grammages are also compatible with hot foiling, embossing, and other finishing techniques; these are intended to offer the appearance of high quality for luxury product packaging. The 200 g/m² and 350 g/m² grammages are available in sheet formats, with the other grammages offered as sheets and on reels.
Potential contents of a pack made from IQ GRASS + PACKAGING include cosmetic products, spirits, clothing, jewellery, and various foods.
"Luxury packaging is literally the first point of contact with a high-quality product," says Bernhard Cantzler, head of Marketing & Business Development at Mondi Uncoated Fine Paper. "It increases anticipation and conveys quality.
"With IQ GRASS + PACKAGING there is also a touch of nature and uniqueness, because each packaging has its own fine pattern. With the addition of additional grammages and optimisation for high-quality special finishings, the paper can be used for carrier bags, liners, promotion cards, vouchers, and food packaging and printed using web offset.
"It is an attractive offer for companies to charge their own brand and corporate design with positive emotions in the long term."
Back in 2021, grass paper suppliers Creapaper GmbH received an investment from Ranpak in an effort to increase the availability of 'sustainable' paper-based packaging on European markets, and McDonald's Germany implemented paper containing 20% grass into the wrapping for certain food products. This move hoped to reduce energy, water, and CO2 during packaging production.
Since then, Zume has implemented various grass fibres, bagasse, bamboo, and other mouldable fibres into its formed fibre coffee lids; and Ukrainian start-up Releaf Paper reached the finals of the Sustainability Awards 2022 for its process of turning cellulose fibres from fallen leaves into paper packaging.
If you liked this article, you might also enjoy:
The Lidl approach to packaging sustainability
How did Brazil achieve its 100% aluminium can recycling rate – and can it be replicated in the EU?
Experts have their say on the EU's Packaging and Packaging Waste Directive revisions
A deep dive into the most important packaging sustainability trends and solutions