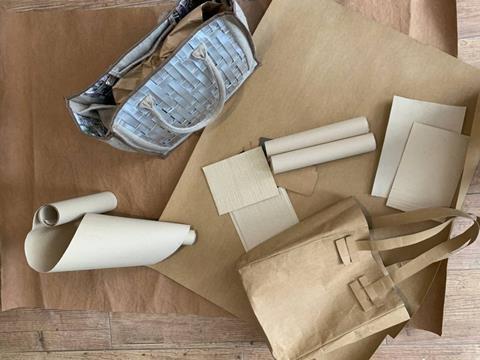 Releaf Paper has developed a process for turning cellulose fibres derived from fallen leaves into paper packaging products, such as carrier bags. We spoke to the company about developing the technology and being shortlisted in the 'Renewable Materials' category of the Sustainability Awards 2022.
You're a finalist in the Sustainability Awards 2022. Congratulations! To start off, could you summarise your entry, Releaf Paper, in less than 50 words?
Releaf Paper is a research & production company that promotes the idea of using fallen leaves for producing packaging. We have researched the unique features of leaf biomass that allow us to produce recyclable and biodegradable packaging materials without harming the environment. Despite some skepticism in the market, we've managed to industrialize our technology.
Why do you think the judges were impressed with your entry? Tell us about what is innovative about your project and/or about its impact on packaging sustainability.
We don't see too much revolutionary changes in the packaging industry in recent years, especially when it comes to sustainability and plastic replacement. All the inventions that bring at least small differences are causing strong resonance, even if their impacts are largely exaggerated. Therefore we believe that our innovation with turning biological wastes into paper & packaging is really a turnkey solution for the industry that has no visible lowlights either in sustainable properties or in product performance. We believe that judges also agreed with that.
How has your innovation/initiative been received?
It was a matter of chance, which happened 4 years ago with my current partner Valentyn Frechka, at the time a 16-year-old Ukrainian student who decided to study alternative sources of cellulose and thereby reduce deforestation. He began with research on grass and straw, testing how much cellulose they contained and whether it could be obtained. Accidentally Valentyn drew his attention to the nearest Carpathian forest. He wondered why fallen leaves could not be a source of cellulose?
It turns out that he can get its fibres from the leaves by the same method as from wood. Later, during long experiments in the school lab, he finally obtained the first suitable prototypes. Since that time, the technology was improved, completed, patented, industrialized, and recognized by multiple global customers and partners.
You're shortlisted for the Renewable Materials category. What do you see as the key demands, challenges and opportunities in relation to renewable materials in packaging?
Based on PwC's Global Survey (June 2022), 30% of customers prioritize sustainability in the packaging of goods when making buying decisions. Also, we see that more enterprises want to comply with the new regulations imposed in different countries and reduce their carbon footprint.
In addition to this, there are some social and economic drivers that force market players to pay more attention to renewable materials. All these factors create perfect conditions and bring brilliant opportunities to the pioneers in the field of developing packaging from renewables. We are proud to be among them and to be the gamechanger in the industry.
The winners of this Sustainability Awards category will be announced at a dinner taking place at the Sustainable Packaging Summit in Lisbon on 13th-14th September 2022. To attend the ceremony, register here.