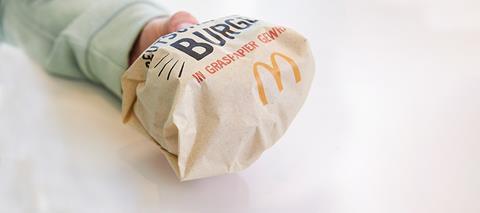 McDonald's Germany is trialling a switch from the normally used paperboard boxes to thin wrapping paper, a move which the company says will save around 70% of packaging material. The new packaging will be tested in 30 restaurants over a period of two months, and will apply to the majority of McDonalds' products.
Guests will have the opportunity to give feedback on the new packaging at the restaurants. At the same time, the new packaging will require new kitchen procedures, which will also be tested in the same time period. If the test results are promising, the new packaging concept could be rolled out in all German McDonald's restaurants. Since March 2021, the McWraps® as well as selected burgers have already been available wrapped in paper.
In addition, McDonald's Germany has started using grass paper for some of its burgers and McWraps. The novel manufacturing process includes grasss fibres in the paper and according to the company, results in energy, water and CO2 savings during production. The grass paper used by McDonalds contains 20% grass, is FSC licenced, is locally sourced and comes from existing grass areas, so doesn't compete with other uses.